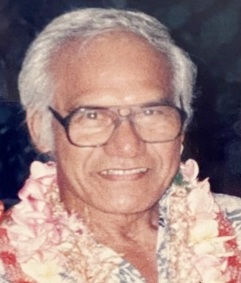 92, passed away peacefully at his home in Halawa Valley Estates, Aiea, on April 23, 2020 surrounded by his family. Born and raised in Kalihi-Palama, he later moved to Kalawao (old Aiea). George lived a life to serve others. He served his country in both the Army and Navy during the height of WWII. He worked at Pearl Harbor Naval Shipyard, retiring after 45 years as a Pipefitter from shop 56, and immediately started work at Honolulu Country Club then Aloha Stadium retiring again after 13 years. Devoting his spare time and artistic talents to Our Lady of Good Counsel School and St. Philomena Church adding his talented touch. He was a strong supporter of the University of Hawaii Athletic teams and his favorite NFL team. In his recent years George enjoyed raising butterflies and tending to his yard. He had a passion for hiking and music. He was humbled to be one of the first to walk the Ford Island Bridge and the H3 Freeway in his 70's.
George was passionate about his family and surrounded himself with his wife, Mary and 7 of his brothers whom he now joins in heaven, his daughters Bethann and Georgann Napua; his grandchildren who were the heart of his world that perpetuated his spirit: Alisa, Keoki, Aidan, Myles, and Malia-Ailana along with his numerous nieces and nephews. George was a devoted Husband, Father, Grandfather, Uncle, Cousin and Tutu Man to many.

Services will be held on Saturday, September 4, 2021 at
St. Philomena Church. Viewing: 10:00 a.m.; Mass: 11:30 a.m.
George will be interred along with his wife Mary on September 7, 2021
at the Hawaii State Veterans Cemetery at 10:00 a.m.