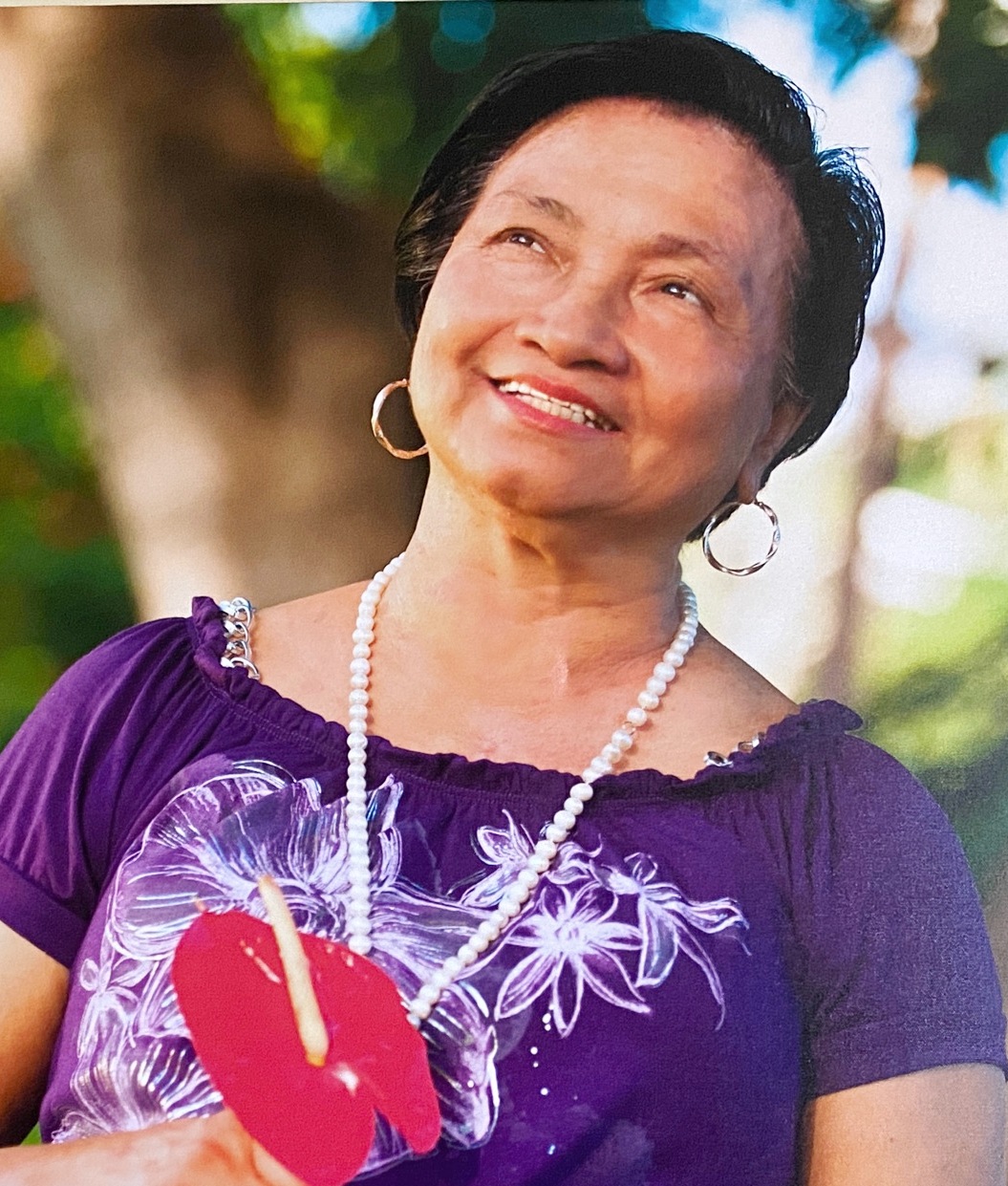 Rigolette Perez Baraquio, a long-time Hawaii resident, passed peacefully at her family's retirement home in Pangasinan, Philippines on August 14, 2021 - just before her 82nd birthday. She was born in Manila, Philippines on August 23, 1939, to parents Juan and Sotera Perez. Rigolette enjoyed a long and fruitful life, and outlived 5 of her siblings: Rebecca, Raquel, Luis, Rosario, and Daniel; as well as her youngest son, Albert, who passed in 2006. She is survived by her loving husband of 56 years, Claudio Fernandez Baraquio; her youngest sister, Remy; her dear children: Cecilia, Jerome, Lucy, John, Therese, Bernadette, Rose, Angela, and Gloria; and 17 beautiful grandchildren.
Rigolette graduated from Santa Isabel College with a degree in Education and became an English teacher at Roxas High School, where she met Claudio, a Math teacher from Pangasinan. They married on June 6, 1965, then emigrated to Hawaii in 1970 and became U.S. citizens in 1975. She was the proud mother of 10 children (including Miss America 2001, Angela Baraquio) and raised them all to offer their time, talent, and treasure to God through service for others. She was an avid supporter of all her children's extra-curricular activities and rarely missed a sporting event or musical performance. She watched every episode of the family's TV show, "Living Local with the Baraquios," which was produced by Bernadette and featured all her children and grandchildren.
Rigolette was an inspirational model of strength, commitment, and leadership. She and her husband were small-business owners of Able Termite Control for more than 40 years, which she managed as President and CEO. She believed in the importance of a strong Catholic school education and witnessed all her children graduate from college. She was consistently a top salesperson in real estate, school and church fundraisers. Yet she always took time to enjoy life. She loved spending quality time with family watching sunrises and sunsets, taking long walks in Waikiki, and going on beach picnics every weekend after mass. She celebrated birthdays with home-made greeting cards, home-cooked Filipino meals, and plenty of live music and karaoke.
As a devout Catholic, she was devoted to the Blessed Mother Mary and the Sacred Heart of Jesus. She prayed the rosary daily and taught her children to do the same. She lived her life in gratitude and service and was deeply dedicated to parish social ministry. She was a perennial volunteer at various churches, from Sacred Heart at Maryknoll to St. Michael's in Waialua, and Holy Family near Pearl Harbor. She often served as a lector, eucharistic minister, floral designer, and church cleaner. She also led her children in the music ministry and event planning for numerous church functions. In 2000, she and Claudio were recognized as "Living Treasures" for the Catholic Diocese of Honolulu as a tribute to their many years of service.
Memorial services were held on August 19, 2021 in Pangasinan. A special memorial mass in Hawaii is scheduled for Saturday, October 23, 11:00 a.m. at St. Jude Catholic Church, with a Celebration of Life to follow at a private location. COVID safety protocols will be followed. For event updates, visit www.everloved.com/life-of/rigolette-baraquio/. In lieu of flowers, please consider a donation in memory of Rigolette Baraquio to Catholic Relief Services, the Saints Marianne & Damien Education Center at St. Augustine Parish, or the American Heart Association. Correspondence can be sent to the Baraquio Family at PO Box 31181, Honolulu, HI 96820.