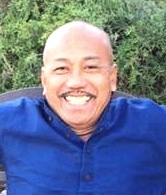 Taken away too soon at the age of 68. Sonny was called back to the Lord on July 25th, 2021 surrounded by his family at his side. He is survived by the love of his life and wife of 35 beautiful years, Gloria; his children Ashley (Tom) and Germain; his 2 granddaughters, Ava Nicole and Taylor Blair; his loving mother Nellie, and his only sister Nancy (Gerhart), with his niece Christeen and nephew Kuhio and along with many other nieces, nephews, and cousins.

Sonny was born in Vigan, Ilocos Sur, Philippines and immigrated to Hawaii at the tender age of 12. He attended Central Intermediate and graduated from McKinley Highschool. He completed his associate degree from KCC and further pursued his education at the University of Hawaii at Manoa. Throughout his life, Sonny was Mr. Aloha spreading kindness to all who met him. He was a people's person. He knew how to connect with people and he made a lasting impression with all of those he met. Sonny's personality was larger than life with an infectious laugh that could be heard a mile away. He was a loving husband, amazing dad, protective brother, fantastic papa, and dependable friend.

The last few years of life were filled with the sounds of laughter and giggles; lots of hugs and kisses from his two granddaughters who filled his life with so much joy and fulfillment. He planned to retire in the spring of 2022 after over 40 years of being a district manager and machine operator with the former Hawaii Newspaper Agency/ Star Bulletin and continued on with the paper, now known as the Honolulu Star-Advertiser, after the merger in 2010. Everything Sonny did, he did it for his family. Sonny was the most selfless person. Always thinking of others and making sure they were taken care of before himself. His life was taken away abruptly but if you knew Sonny, he lived every day of his life to the fullest and with unwavering faith.

The wake service will be held privately with the immediate family on September 10th and can be viewed via live stream on Nuuanu Mortuary's website. A spiritual Celebration of Life will be held at the Cathedral Basilica of Our Lady of Peace in Honolulu on September 11th. Live stream of the mass will be held at 10am via the Cathedral's Facebook page. Sonny will finally be laid to rest near his beloved father, the late Johnny Atmospera at Diamond Head Memorial Park with a drive-by burial.