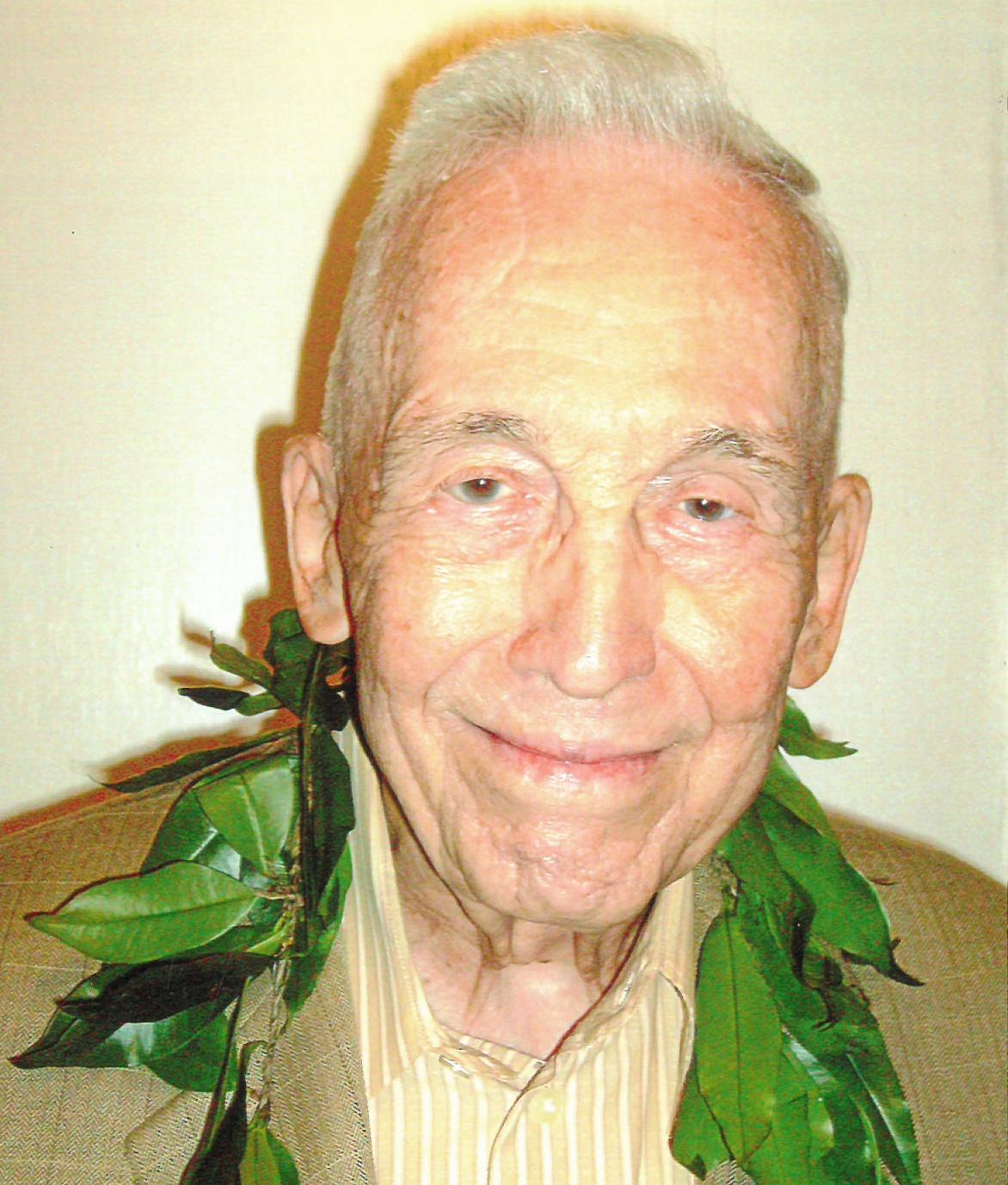 Charles J. Keever was a decorated veteran of two wars, a practicing attorney in civilian and military life, and an active community volunteer.
He died in a Honolulu clinic beside his wife from pneumonia complicated by service-connected Agent Orange exposure. He was 92 years and one month old.
Often called "Chuck," he was born on Aug. 2, 1929 in Hutchinson, Kansas, to Consuela (Mustain) and James B. Keever Jr., a one-time Texas Ranger, veteran of both world wars and dedicated law enforcement officer. Chuck as a youngster decided he was destined to become a lawyer.
A long-time resident of Honolulu, Chuck was active as a community volunteer. Arriving from Okinawa in 1978, he and his wife Beverly joined a small citizen group to save from demolition the flaming red Inari Shinto Shrine that once adorned South King Street and moved it to Waipahu.
There, as a colonel in the U.S. Marine Corps, Chuck used his legal talents to persuade the Army Corps of Engineers to construct a berm in the flood plain that provided the city park a chunk of dry land to house the Inari Shine.
Around it in time blossomed Hawaii's Plantation Village. There are replicas of immigrant ethnic groups' houses of sugar cane workers who fostered Hawaii's unique multicultural society. Chuck later volunteered to serve as its president and the Inari Shrine was listed on the National and State Registers of Historic Places.
Upon retiring from the Marine Corps in 1981, Chuck continued community volunteering. He tried to develop a better understanding and implementation of the law of war while practicing in the firm of Lawhn and Keever in Honolulu. He initiated and for more than a decade helped organize quarterly "law lunches" for 40 to 50 senior civilian and military lawyers in Honolulu, including faculty members and the principal legal advisors of federal, state and county agencies with homeland security responsibilities.
Each lunch featured a talk from a military lawyer discussing then-current legal issues such as those involved with helping with humanitarian efforts following the Fukushima Japan earthquake in 2011 that caused its tsunami and nuclear power plant meltdowns. These gatherings were co-sponsored as a regional meeting of the American Society of International Law and the U.S. Military's Pacific Command.
In recent years, he completed his decade's long effort to memorialize the work of Professor and Judge Richard R. Baxter, one of the most influential scholars of the twentieth century on the international law of war.
Baxter was Chuck's mentor in studying in 1973-74 at Harvard Law School international law, which sets standards such as protection of civilians during armed conflicts. Chuck assisted Baxter to organize a workshop at the Pentagon on the law of war. This workshop was instrumental in persuading the Pentagon to adopt in 1977 a directive that requires all U.S. military forces to adhere to the standards of international law—the first such directive since the Civil War. Baxter was later appointed judge of the International Court of Justice but has since passed on.
To memorialize Baxter and his influential writings, Chuck initiated work with three eminent scholars and international court judges to effect publication by Oxford University Press of Humanizing the Laws of War: Selected Writings of Richard Baxter. This volume, available worldwide on Amazon and Kindle, was favorably noted in an extensive book review in the Journal of the American Society of International Law.
In 1947 Chuck was graduated from Hutchinson High School, received a U.S. Navy scholarship and entered Harvard College. With a boyish smile, nice-guy demeanor and a knack for organizing, he was selected in 1950 as undergraduate manager of Harvard's football team.
In June 1951 he was graduated from college and commissioned as a second lieutenant in the U.S. Marine Corps. Within months he was on the front lines of the Korean conflict, serving as a mortar section officer who was engaged in heavy combat in sub-zero temperatures. After Korea, he joined the Marine Corps Reserve and entered Harvard Law School. Upon being graduated in 1957, he journeyed to Seattle to practice law and in 1963 became a partner in the firm of Macbride and Saks.
In 1965, realizing the Marines were going to become involved in the Vietnam conflict, Chuck volunteered to return to active duty, thinking he would serve for a year or two and then return to a law practice. As it turned out, he was not assigned legal duties in Vietnam but became the Civic Action Officer in the III Marine Amphibious Force, which was protecting the strategic airbase at Danang in the northern part of South Vietnam and a hub for spraying the defoliant Agent Orange over the country's vast jungles.
Chuck was responsible for initiating the Marine Corps' people-to-people program in Vietnam that entailed his working with infantry battalion commanders to establish "Combined Action Platoons" consisting of a squad of Marines and a platoon of the Vietnamese Popular Forces, each assigned permanently to a village to ensure security on a continuing basis.
In June 1965, Chuck wrote the first civic action order for the Marines in Vietnam. In it, he defined civic action as "the term applied to the employment of the military forces of a nation in economic and social activities which are beneficial to the population as a whole." These were activities to gain the good will of the population such as sending medical teams to treat villagers.
Duties assigned to him included escorting a correspondent from the New York Herald Tribune, Beverly Deepe, so that she could interview Marines in the field. The two, although born hundreds of miles apart in the Midwest, were destined to meet half way around the world amidst a shooting war, fell in love, and later Chuck escorted her through 52 years of blissful marriage. She survives him.
With his on-the-ground field experience, Chuck in July 1966 was transferred to Marine Corps headquarters in Washington, D.C. to open a Civic Action Branch in the operations division. For his policy-making order and his efforts to implement it, he was awarded his first Legion of Merit.
Majoring in history at Harvard College stoked his love of reading and learning, which continued throughout his lifetime. His annual shopping spree entailed visiting the Friends of Library summer sale. There the bargain prices and seductive titles lured him to leave with an armload—sometimes even boxes—of his newfound friends.
He acquired thousands of books on such wide-ranging topics as Civil War battles, Winston Churchill's writings and the five-volume Complete Audubon. Using an Excel spreadsheet, he catalogued his books not only by author and title but also by height so he could locate the appropriate shelf for their new home. Each night before bedtime, he read for more learning and for wafting away worries from the workaday world.
During his 30-year military career, he rose to the rank of colonel, receiving his second Legion of Merit to add to his other half dozen metals and service ribbons.
For 40 years he lived in what he described as "a hilltop home that overlooks the majestic Diamond Head and the Pacific Ocean" in always-sunny Hawaii. "Each morning I take in this magnificent view as I walk around our lanai," he wrote his former college classmates, who often brave East Coast and Midwest winters. "And each evening Bev and I gaze at the glorious sunsets."
Memorials may be sent to: Hawaii's Plantation Village, 94-695 Waipahu Street, Waipahu, Hawaii 96797.