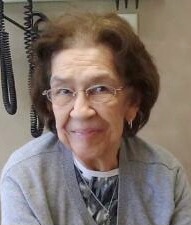 95, of Pearl City, Hawaii, passed away in Waianae on July 7, 2021. She was born in Honolulu on May 27, 1926 to Antonio Matias and Ramona Ayala.
Raised during the Depression and WWII, she was best known for her crocheting skills. Hattie loved making everything from dolls to bedspreads to sweaters. A voracious consumer of news, she kept family and friends up on current events. She was a consummate storyteller, regaling listeners with her rich store of stories. And though her husband was the primary cook in the family, she was especially known for her unbeatable Spanish Rice and her scrumptiously moist carrot bread.
As her large family's matriarch, she was present in everyone's lives, never forgetting birthdays and special occasions. She also helped raise many of her grandchildren and great grandchildren.
She is pre-deceased by her husband, Harry Sr., son Howard, daughter Loretta Baclaan, and her eight siblings.
She is survived by sons Harry Jr. and Rodney (Holly Yamada); daughter Margaret (Steve) Sokolowski; 27 grandchildren; 77 great grandchildren; 66 great great grandchildren, and 4 great great great grandchildren
The family wishes to thank Rebecca Gacayan-Dulatre, and all the other caregivers, for their loving care during her final years.

Private services will be held.