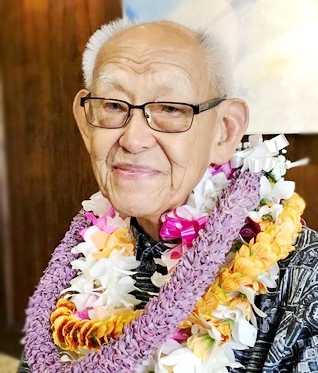 Hung Lum Young of Honolulu, Hawaii passed away on August 16, 2021 at the age of 100. He was born on February 17, 1921 on Oahu. He grew up in Honolulu, Hawaii, and graduated from McKinley High School and the University of Hawaii at Manoa where he obtained a BS in Chemistry. He was drafted into the Army and served in New Caledonia in 1945. He completed his pharmacy degree at Oregon State University on the GI Bill and moved back to Oahu with his wife, Florence Au Young, who predeceased him in 1999. He worked for Stewart's Pharmacy initially, and had been promoted to Manager, but then started Waipahu and Waianae Drug Stores with his brother-in-law Wilfred Au in the early 1950's. He was an active businessman as well in both commercial and residential real estate.

He was preceded in death by his beloved wife, former school teacher, Florence Au Young, as well as his parents, Wah Hui Young and Sau Pung Ching Young. He was also preceded in death by his father-in-law and mother-in-law Mr. and Mrs. Tai Ting Au. In addition, he was preceded in death by his brothers and his sisters-in-law H.J. (Ah Lin) Young, Donald (Emily) Young, Phillip (Catalina) Young, and Leonard Young as well as his brothers-in-law and sisters-in-law Timothy (Margaret) Au, Wilfred Au, David Au, Raymond Au and Walter Au.

He is survived by his son Terrence (Lynette) Young and his daughters Geri (Robert Teichman) Young and Marlene (Bobbi Kokx) Young; his grandchildren Brent (Shari) Young, Bliss (Vanerd Wicklund) Young, Kurt Teichman and Grant Teichman; and his great- grandchildren Ryden Chun, Bella Chun, Colten Chun and Bentley Young. He is also survived by his brothers Thomas (Aileen) Young and Reginald (Judy) Young as well as his sisters-in-law Caroline Young, Frances Au, Lucille Au, Yuk Lin Chong and numerous nieces and nephews.

His greatest passion was the love he had for his family and for the University of Hawaii sports teams. He traveled to many "away" UH games on the mainland, accompanied by family and friends.

The family has requested a private celebration of life. No gifts—if you wish, please consider a donation to the American Heart Association. Services will be held on Oahu at a future date.