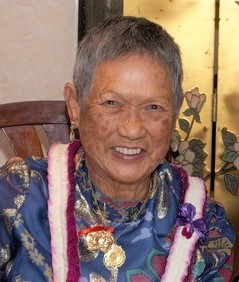 Harriet Ann Leong Liu passed away peacefully on September 1, 2021 at Pohai Nani in Kaneohe, at the age of 98. She was born in Honolulu on October 24, 1922 and spent much of her life as a homemaker, caring for her husband, former Assistant Chief of Police, Clarence Liu Sr., and their three children, Clarence Jr., Dan and Paula, at their home in Kailua. She and her family were active members of St. Anthony of Padua Catholic Church.

Harriet was preceded in death by Clarence Sr. (1916-2013), her husband of 70 years, by her brothers: George, Thomas and Samuel Leong, and sisters: Ellen and Agnes Leong, Mildred Kaulukukui and Nancy Rego. She is survived by her sons, Clarence Jr. (Patricia) and Dan, by her daughter, Paula, by her beloved grandson, Micah (Jennifer), and by many nieces and nephews.

We will always remember Mom's smile, her infectious laughter and her devotion to our family. She was an excellent cook and baker, a gracious hostess, who entertained guests from all over the world, and a loyal friend. We are especially grateful to her wonderful caregivers at Pohai Nani and to those who visited her later in life.

Due to Covid restrictions, a private service celebrating her life was held in late September. In lieu of gifts, donations may be made to Good Samaritan Society - Pohai Nani, 45-090 Namoku St., Kaneohe, HI 96744.