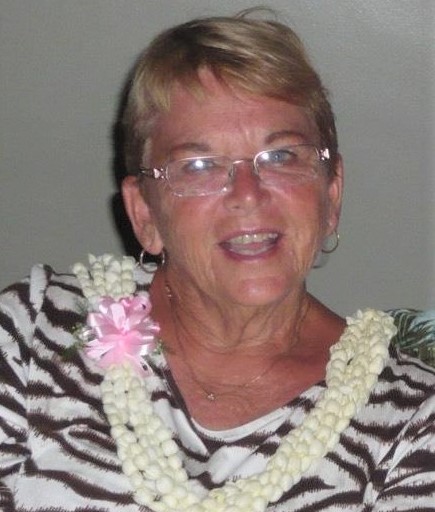 76, passed away on August 15, 2021, after a short but courageous battle with cancer. She was born on March 13, 1945 to Harold William Kirch and Barbara Ver Kirch in the then Territory of Hawai'i. Pam spent her childhood and school age years growing up in Manoa Valley where her parents had built their home in the Woodlawn area, and where her father had his orchid nursery business. Along with her older brother Michael and younger brother Patrick, Pam loved summer vacations spent in a cottage in Punalu'u. Pam attended Manoa Elementary School, Robert Louis Stevenson Intermediate School, and graduated from Roosevelt High School in 1963. She left her island home to attend Western Washington State College in Bellingham, where she studied to become a teacher.
While in college Pam met her life partner, James Chapman, a native of Vancouver, Washington. On August 19, 1967, Jim and Pam were married at St. Clement Church in Honolulu. They then moved to Walla Walla, Washington to begin their life and teaching careers together. After a few short years, they relocated to Vancouver where they both continued teaching and raised their two daughters. Pam spent her long career teaching kindergarten and the primary grades in both the Vancouver and Evergreen School Districts. She retired from teaching in 2002, but continued to act as a mentor to young teachers. Pam's passion for making learning fun and meaningful inspired many of her students to become life-long learners. She was always learning and looking for the best methods to engage her students. She was also dedicated to her work with the Assistance League of Vancouver where she was able to continue helping children.
Pam's greatest joy in life was her family and her dogs. She especially cherished every moment spent with her four grandchildren, Will, Maile, Jackson, and Ellie, and she was a stable and loving force in each of their lives. Pam especially looked forward their frequent trips to Hawai'i, where she often rented a house in Punalu'u in order to share her aloha for that special place with her family, walking the beach in search of seashells. Taking after her father, Pam loved caring for her orchids and beautiful flower beds.
Pam is survived by her husband Jim; her daughters Michelle Buss and Nicole Brown; her grandchildren: Will Buss, Ellie Buss, Maile Brown, and Jackson Brown and her brother Patrick Kirch. She was preceded in death by her parents and her older brother Michael Kirch.
A Celebration of Life is being planned in Pam's honor later this year. In lieu of flowers, donations may be made in Pam's name to the Assistance League of Vancouver, Washington.