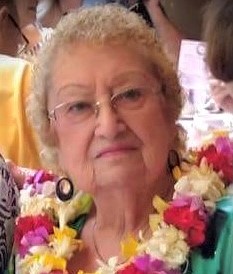 Rose "Tootsie" Mesick of Kailua-Kona, Hawaii, passed on September 22, 2021 after a long illness.
"Tootsie" was born to Frank and Flora Smith on May 8, 1936, grew up in Waimanalo, was a graduate of Roosevelt High, Class of 1954. She married her one and only sweetheart, Ralph Mesick in 1958 and lived a purpose-driven life filled with a lot of love and a deep caring for others. "Tootsie" spent many years working for the Catholic Church (Saint Elizabeth in Aiea, Saint Michael in Waialua and Bishop Baumgartner in Guam) and then the Department of Education, retiring as a teaching assistant for children with special needs at Kahakai Elementary School in Kona where she resided for the past 40 years.
"Tootsie" is survived by her husband, Ralph; daughter, Ruth Masuda (Scott Kawahara) and son, Ralph (Erlinda); four grandkids: Jennifer (Kapili) Kala, Justin (Kayla) Masuda, Lauren (Brendan) Frodente and Kimberly Mesick - and one great-granddaughter, Gemma Frodente; a sister Barbara (Raymond) Hookano, as well as many nieces, nephews and cousins.

A Funeral Mass will be held at Mary, Star of the Sea Church on October 6, 2021 at noon and a private burial will follow. COVID-protocols prohibit the usual visitation and
strictly limit attendance at mass to 90 people.

Condolences can be sent to mesicktootsie@gmail.com.
The family welcomes donations to a charity of your choice
in lieu of flower or other contributions.