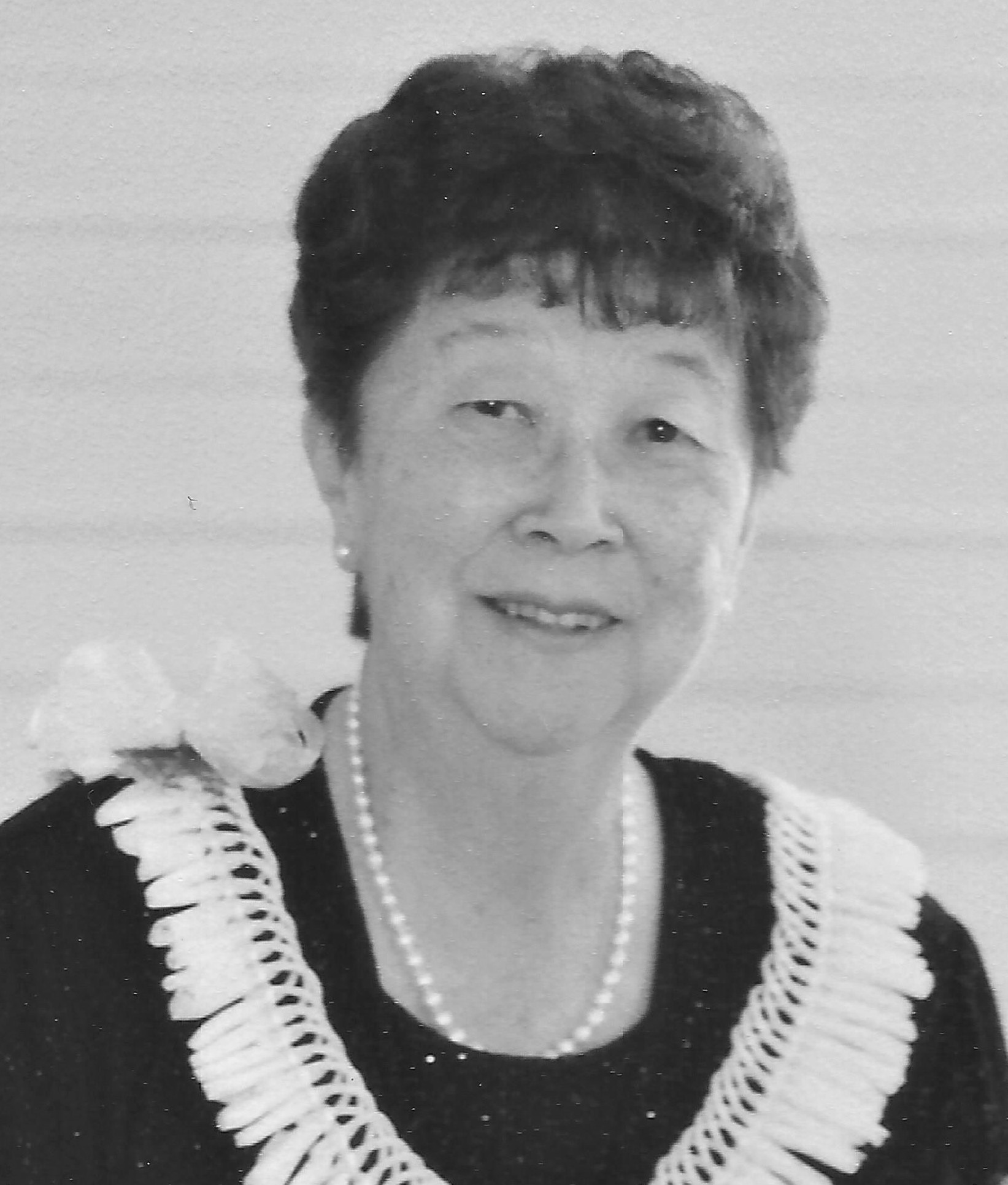 Helen Tamayo Perreira, 92, of Kaneohe, passed away peacefully on Sunday, September 5, 2021 at Navian Hawaii, in Kailua. She was born in Honolulu, Hawaii on December 20, 1928 to parents Shuemon Mimura (father) and Iseno Kawamura (mother). Helen was the youngest of eight children.
Helen spent her childhood years growing up in Honolulu on Beretania Street across from Central Union Church. She attended public schools at Lincoln Elementary, Washington Intermediate, and graduated from Roosevelt High School in 1946.
She met the love of her life, George S. Perreira in Honolulu, after she became a member of the Catholic Church; They were married in Honolulu at Sacred Heart Church on Wilder Avenue. George and Helen moved with their children from Kalihi and they settled on the windward side of Oahu in Kaneohe at their newly built home in April 1955. The Perreira family attended St. Ann Church in Kaneohe.
Sometime after 1955, Helen began her first job as a secretary and bookkeeper at St. Ann Church, working with Father Mark Consalvi, ss.cc., the pastor. Her tasks varied and she gradually learned the work, becoming prompt and efficient at it. When Father Mark was transferred to different parishes, she continued to work with him as a secretary and bookkeeper at St. Elizabeth Church, Aiea, St. George Church, Waimanalo, and lastly Blessed Sacrament Church, Pauoa, where she was also a cantor at mass; she loved to sing. She worked for the Catholic Church in Hawaii for about twenty years.
She went to work as a secretary at Cathedral Elementary School in Nuuanu, for a few years. Her last place of employment was at Sacred Hearts Academy in Kaimuki, where she was a secretary for both the elementary and high school for nearly twenty years, from 1985-2004, retiring at the age of 75 in October 2004. She always said that she loved working there.
Dad was an avid sports fan and Mom became an avid sports fan also. Together, they enjoyed many years attending University of Hawaii sporting events at Aloha Stadium for football, and at the U.H. Manoa campus for baseball, basketball, and volleyball games.
Both Mom and Dad enjoyed entertaining, especially Mom. It became a tradition at the Perreira family home to invite relatives and friends for dinner on Christmas day beginning in 1961 until 2008. Mom was an excellent cook.
Mom and Dad had a happy marriage, and they were blessed to have a grand celebration at Hilton Hawaiian Village for their fiftieth wedding anniversary with family and friends.
Mom was devoted to her Catholic faith during her life. After her retirement she drove herself daily to the 7:00 a.m. mass at St. Ann Church. When she was unable to drive, she enlisted the help of friends to get here there.
Mom had a marvelous life. She was a compassionate, generous, gentle, gracious, and kind woman. She loved her family dearly. She was a wonderful creation, designed in the heart of God, fashioned by His loving hands, given to our family as His amazing gift. She made such a difference just by being herself.

"Mom, we thank you for your prayers, your words, and every moment you selflessly gave to our family. You are appreciated.
We love you dearly and we will miss you."



Predeceased by her spouse, George S. Perreira, daughter, Debra J. Wolf and by her parents and siblings. She is survived by sons, Jerrold, Randall, and Terence (Julie) Perreira; seven grandchildren, and four great grandchildren.

Services will be held on Friday, October 22, 2021
at St. Ann Church, Kaneohe.
The Rosary will be said at 11:00 a.m. followed by Mass.


Please, no gifts. Instead consider a memorial donation
in Helen's name to St. Ann Church or Sacred Hearts Academy.