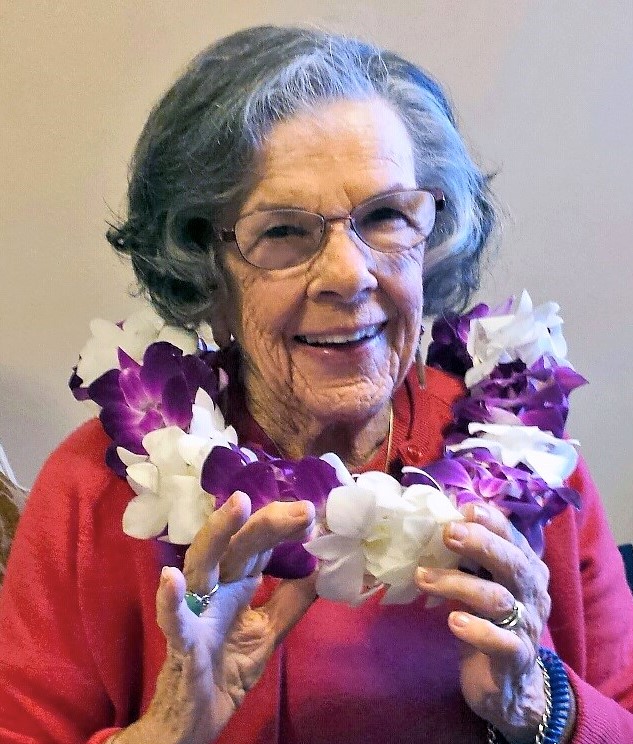 On September 18, 2021, Jean Marie Heley, 99, passed away peacefully in Milwaukie, Oregon. A resident of Hawaii for more than 70 years, she was a proud kama'aina, student of hula and a Pearl Harbor survivor. Born November 25, 1921, in Berkeley, CA, she died just two months short of her 100th birthday. Jean was the oldest of three children of Victor R. Gede and Gaye Valera (Elder) Gede, and resided in her earliest years in Berkeley and Albany, where her father was a prominent structural engineer and builder in the Bay Area. They moved to Mare Island in the 1930's, where her father was engaged in the engineering of the Bay bridge, the San Francisco Broadway tunnel and the design and building of naval dry docks. Jean attended high school in Vallejo, where she met her future husband, Michael G. Heley. In 1941, Victor Gede was transferred to Pearl Harbor, Territory of Hawaii, to work on Dry Docks 2 and 3, and the family moved to Pearl Harbor in July 1941. Shortly after the start of the war, Jean's future husband Mike also came to work at Pearl, qualified as a civilian underwater diver.
On December 7, 1941, Jean was at home on the base at Pearl Harbor during the Japanese surprise attack. While hiding underneath tables and mattresses as the attack proceeded, it became apparent her younger brother, who suffered from juvenile diabetes, needed insulin. While her father attended to the assault on the base, Jean daringly drove her brother to Queen's Hospital in Honolulu during the bombing and strafing. Jean married Michael Heley in January 1943 in Honolulu, and they made their home in Hawaii for the next 70 years, living in Honolulu, Hilo, and Kailua. She was active in several hula halau and with St. Christopher's Episcopal Church in Kailua. When Mike died in 2014, Jean remained in Kailua until 2015, when she moved to Portland, OR, to be closer to her daughter Kathryn and her granddaughter, Carol.
Jean was predeceased by her husband Michael Grant Heley, her daughter Sandra Heley Phillips (Warren), and her grandson Brook Pukalani Phillips. She is survived by her son Michael Patrick Heley (Melissa), daughter Kathryn Heley, one granddaughter, two grandsons and one great-granddaughter. She will be missed by her dear friend Paula Sterling, of Kailua. Her son-in-law Warren Phillips was a great comfort to her during her last years in Oregon.

Celebration of Life to be held at a later date.