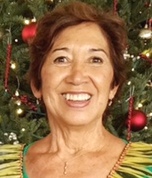 76, of Kailua, was taken home by our Lord on September 22, 2021. She was born on March 1, 1945 to Clarissa Waila'ahia Lincoln and Henry Mahi, Jr. and lived in Koko Head with her three siblings. Gail graduated from Star of the Sea and went straight to work helping the family financially.


Gail met the love of her life George Ray Browne while visiting family on Maui. They married on July 6, 1968 and settled into their first and only home in Kailua. When Ray passed, she resolutely focused on her career, which began and ended with the federal government after 42 years of service and proudly concluded it as an investigator with the US DOT Office of the Inspector General in Washington D.C.

Gail was passionate about sports and enthusiastically supported her children with loud cheers, team mom duties, and steadfast devotion. But her favorite sport to play was volleyball and she did so without fear on a team full of Navy men. Her deep enjoyment of music prompted her to sing in the church choir, but she enjoyed Hawaiian music most and the hula accompaniment. She shared these passions and her aloha spirit with a multitude of friends and family, including her companion, Roy Yamamoto.

Gail's lasting legacy will always be the generosity of her heart. She lavishly poured all love, joy and compassion into others. Her ministries included those in the church, in prison, and in the retirement community. Gail actively pursued those in need of Jesus' love and nurtured relationships with a genuine vulnerability that few on this earth possess. We will miss her beautiful smile and sunny disposition but most importantly, we will miss the love of Christ that flowed through her. A hui hou, Miss Aloha!

She is survived by her daughter Yvonne Vieau and her children Simone and Christian; her son Ray Keoki Browne and his children Ikaika, Noah and Pono and grandchildren; her son Mikaele Browne; brother Henry Mahi, III and sister Rose Low. She is predeceased by her brother Don Mahi.

Mahalo to all who attended her service and sent donations. She supported a number of charities and your generosity will go to her favorite. We will always remember your kindness and support.