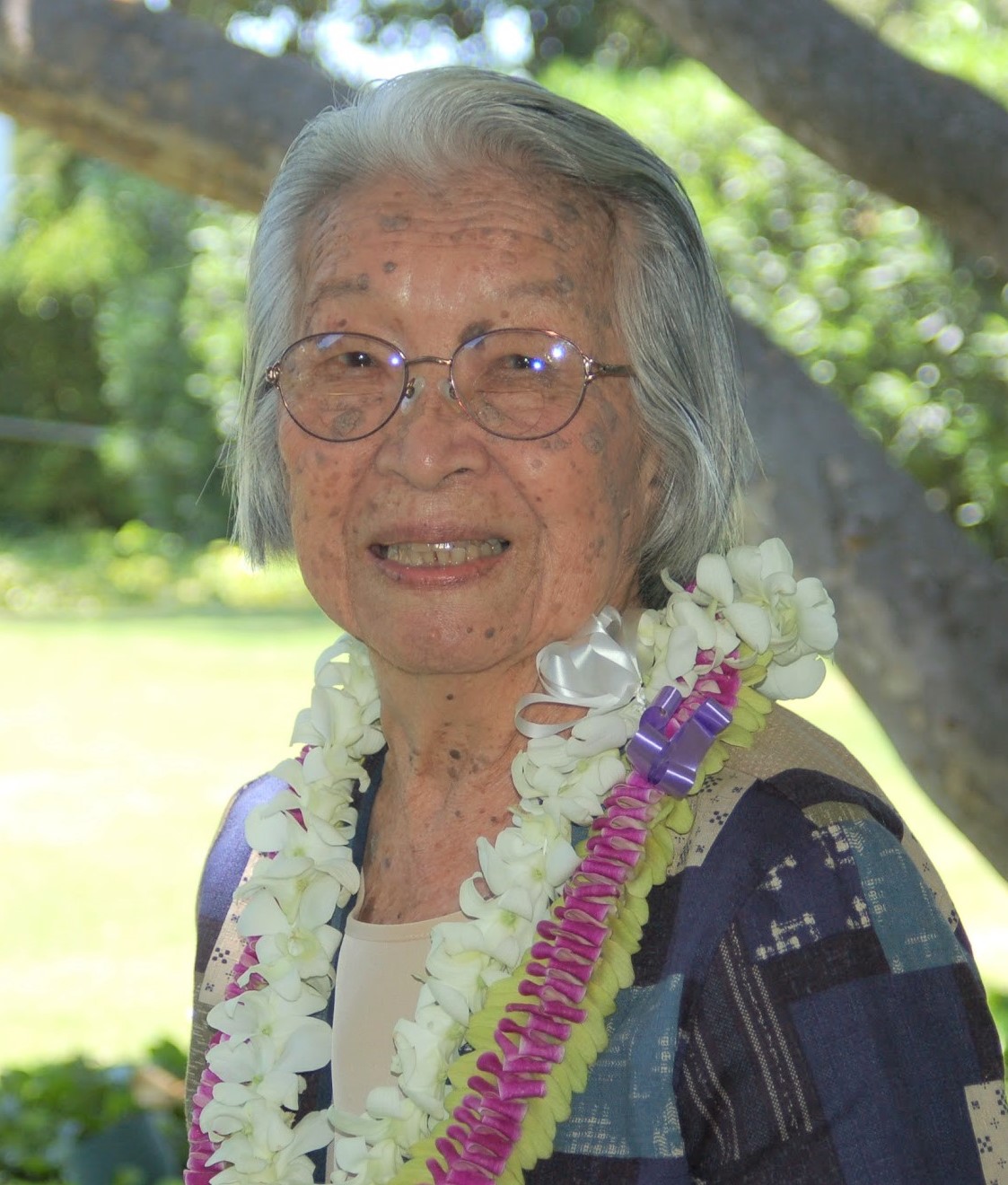 Muriel Chun Char passed away peacefully in her sleep on April 19, 2020, at the age of 105. She was predeceased by husband, Kenneth Chow Char, sons Earle and Sanford, and grandson, Kevin Char. She is survived by brother, Kenneth Chun of Hilo, daughter, Gwen Heliker; sons Kelvin (Delores Clark), and Clayton (Sandra); also, 13 grandchildren, 12 great-grandchildren, and 1 great-great grandchild
Popo Char was raised on her parents' rice farm in Waiahole-Waikane Valley. She married Kenneth in 1932, and they lived in McCully, Wailupe and Manoa before finally settling in Makiki for 70 years. In the early years, they owned and operated People's Grocery in McCully, and later Beach Curios in the heart of Waikiki.
After retiring from Kaiser Hospital as a lead cook, Popo joined the Makiki Senior Citizens Club and learned to play the ukulele and guitar, and to craft haku leis. You could find her and friend Hannah Basso, brother and sister-in-law Kenneth and Alice Chun, and other club members entertaining on Friday mornings at the former Hawaiian Regent Hotel. A major accolade for Popo was winning the 1st Place Mayor's Grand Prize at the 1988 May Day Lei Contest. Her haku hat band was outstanding in that she used only native Hawaiian shrubbery.
Through Kenneth's part-time job as Tour Director for International Travel Service (owned by sister, Bernice Char Loui and husband, Loui Leong Hop), Mom and Dad were able to see the world. They visited the mainland U.S.A., Canada, Europe and Asia, and visited Char relatives in China prior to China's fully opening the door to tourism.
Popo was famous for her cooking and baking. Her specialties included tripe stew, jai, baked spaghetti, chicken long rice, ma tai soo, lavosh, turnip and taro cakes, and much more. Her cooking talents were most appreciated by her family and friends, and by her church, The United Church of Christ, where she helped cook for their annual fund-raising luau. She was also skilled at crocheting hats, purses, shawls, tote bags, water bottle holders, pot holders, doilies, and scarves out of yarn and supermarket plastic bags, and would gladly crochet something for you in your high school colors.

Private services were held on the 1-year anniversary of her passing, and she was laid to rest with Kenneth on April 19, 2021.

Rest in Aloha, Mom. You are gone, but will never be forgotten.