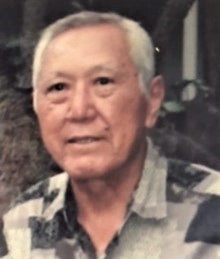 Kenneth Nakaba Sumimoto was born and raised in Hilo Hawaii on December 7, 1930 to Joichi and Hayano Sumimoto. He was the 8th child of 9 siblings. After graduating from Hilo High School in 1949, he served in the Army and received his GI bill to pursue his academic career at UCLA where he found his calling and success in accounting and finance. Graduated with a BA and MBA in Accounting at UCLA which lead to his career path to KPMG Peat Marwick in Los Angeles in the audit department. Three years later, the firm expanded a division in the Honolulu office where he jumped at the opportunity to move back to Honolulu as a senior accountant. Settling with his wife Estelle and 3 children, Liane, Kevin and Darin in Kailua, Olomana where they resided for more than 50 years.

Kenneth received his CPA license in California in 1963 and Hawaii in 1964. He was elected to partnership at KPMG Peat Marwick in 1969. As an audit partner he was involved in several industries, particularly in savings and loan associations, finance companies, hospitality enterprises, medical industries and state and local government. Kenneth was a member of the Board of Medical Examiners from 1982-1985 appointed by former Governor George Ariyoshi. He was a member of the Hawaii Economic Development Corporation in 1970 appointed by former Mayor Frank Fasi. Board of director for City Bank and International Savings and Loan. Chairman and president of Pacific Venture Capital, a nonprofit entity to promote Hawaii's minority business and redevelop its depressed areas.

Kenneth's passion and hobbies were golfing and gardening. He spent his quiet time in his greenhouse where he tended to his orchids, multi-color ti-leaf plants and anthuriums. As a businessman and passion for plants, he opened a plant and flower shop called Living Interiors. He also founded Kohala Kentia in Kohala Hawaii with partners Shiro Takata and Tamotsu Kitagawa. He was a member of Waialae Country Club where he played golf with friends and colleagues. Kenneth also enjoyed weekly rounds of golf at Pali Golf course with close friends.

Kenneth will always be remembered as a person of high moral character and integrity, a person who helped the less fortunate and a loving supportive husband, father and grandfather. He will be missed, but you can be sure that he will be planting and replanting his garden in heaven and enjoying his quiet time above.
Kenneth was preceded in death by wife Estelle and is survived by sons Kevin (Donna) and Darin (Christine), daughter Liane Iraha (Randall), 7 grandchildren Rylie, Katelyn, Noah, Karissa, Dane, Ryder and Grey, sister Kazue Kaide of Hilo, Hawaii and brother Wallace Sumimoto of Los Angeles, California. In lieu of flowers or gifts, those who wish to honor him may make a donation to a charity of their choice.