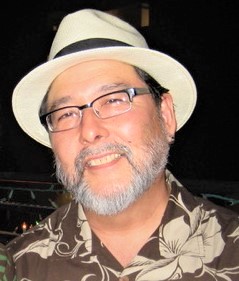 Edmund Kazuso ("Ed") Oasa, beloved husband, son, brother, uncle, and friend to many, passed away on October 26, 2021, at Stanford Hospital in California after a five-year journey with leukemia. Born on Oahu, Ed was a 1969 graduate of Iolani School and went on to earn a PhD in Political Science from the University of Hawaii. He continued post-doctoral work in Europe and eventually landed a position teaching Sociology at the University of Kentucky where he met his wife Shellye. They were married in 1987 and moved to the Bay Area where they resided until his passing.
In the Bay Area, Ed switched gears and became a licensed private investigator, becoming involved in numerous capital cases and providing defense counsel with briefings that demonstrated his dedication to fact finding and seeking justice. The little-known link between Ed's seemingly distinct career paths was a larger, life-long theme: advancing a more profound understanding of politics and the necessary elements of social change. In short, Ed Oasa was a revolutionary, committed to social justice, assisting many others engaged in the search for meaningful change.
In his spare time, Ed was a voracious reader and enjoyed biking in Bay Area trails and paths. He also enjoyed listening to jazz and Hawaiian music and playing the ukulele, often participating in area jam sessions.
In October 2016, Ed was diagnosed with Myeloid Dysplasia Syndrome (MDS or pre-leukemia) and in May 2017, underwent a stem cell transplant. A year later, he had a near fatal bout with pneumonia and ultimately returned home although he required supplemental oxygen and assistance from caregivers and physical therapists. Through good nutrition and regular exercise, Ed defied the odds and became less dependent on oxygen and remained in remission for nearly three years.
In 2019, Ed began studying Buddhism and came to understand the meaning of impermanence and the elimination of ego. He realized that his connection to others was most important.
In June 2020, Ed was diagnosed with Acute Myeloid Leukemia (AML) and endured many rounds of treatment before finally succumbing to complications due to AML.
Edmund is survived by his wife Shellye, mother Lillian, sister Suzanne, brother Wesley, and nieces Lauren Ono and Leslie Sing. The family would like to express its gratitude to the doctors and staff at Stanford Medical Center and the Reverends Ken Yamada and Ryoko Osa and Dr. Nobuo Haneda for guiding Ed in Shin-Buddhist teachings.
Edmund will return to rest in Honolulu. A celebration of life will be held at a later date. The family suggests memorial donations in Edmund's name be made to the MDS Foundation at www.mds-foundation.org.