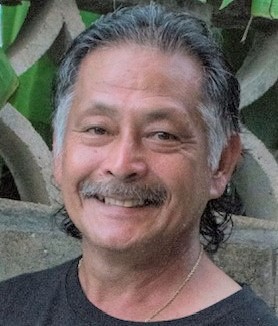 Of Kailua Hawaii, passed away on November 8, 2021 at Castle Medical Center at the age of 63. Guy was born in Honolulu, Hawaii on April 13, 1958 graduating from Kailua High School class of 1976. He worked as a journeyman carpenter and was a member of the Carpenter's Union Local 745. He was very proud of his family and was always willing to lend a helping hand.

He will be missed by his wife Shirlene, his children Buddy (Lianne Gohier), Brandi &Grant (Taylor Mihara). His grandsons Eli-Alan & Owen-James Gohier-Oyadomari. His 3 fur babies Jax, Biggy & Bronx. Siblings Rob (Dale) Oyadomari, Regina (deceased) (Nathan) Umetsu, Lynn (Donald) Benoza, Roberta Akana, Maka Wong (deceased) Wendell Oyadomari, Rayton Oyadomari. Step siblings Walton Cook (Gina) Mahoe, Howell Chinky (Linda) Mahoe Jr. & Kehau Gerona, many nieces, nephews & cousins. Guy is preceded in death by his birth parents Robert Oyadomari Sr. & Elizabeth Mahoe.

Services will be Friday January 28, 2022 at Hawaiian Memorial Park Mortuary. Visitation 9-10:30, services to follow. Burial at a later date. Arrangements provided by Hawaiian Memorial Park Funeral services.