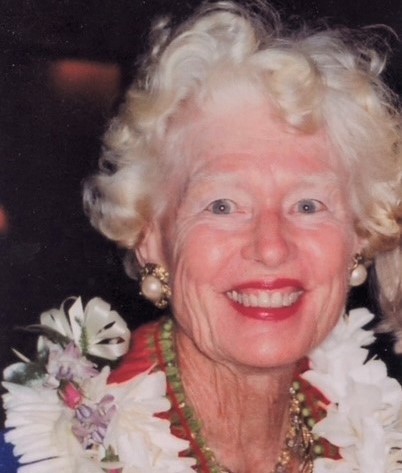 Ann Bennett Simpson, 94, died after battling dementia for nearly 15 years at Arcadia, Honolulu, Hawaii on Wednesday, January 12th, 2022.
Ann was born in Aberdeen, South Dakota, August 17, 1927. She met her husband to be "Jack" John Simpson at the University of Oregon after WWII. They were married and happy for fifty-nine years. After school, they returned to Jack's native Honolulu and had five children; Kathryn (Ebert), Gail (Owen), John, James, and Laurie (Bugbee). Ann is also survived by fourteen grandchildren and seven great-grandchildren.
Ann was a tireless community leader, and her service is reflected in the list of organizations that she led as Director, Board member or Trustee. State rep for UNICEF, White House Conference on Youth, Girl Scouts of America, University Branch YMCA, Kapiolani Hospital, Aloha United Fund, Flora Pacifica, Better Business Bureau of Honolulu, founder of Mother Rice Kindergarten and Children's Aid Society's Thrift Shop, chairman of the Mayor's Litter Prevention Committee, Citizens Committee for City Charter, Central Union Church, Aloha Chapter DAR, President Junior League of Honolulu, P.E.O. Sisterhood Chapter President, Outdoor Circle President, Women's Committee for Honolulu Symphony, Hawaii Humane Society, National Chair of American Social Health Association, Diamond Head Theater, Cancer Research Center, trustee Pacific School of Religion, and was trustee emeritus at Hawaii Pacific University.
Mrs. Simpson worked for Meadow Gold Dairies in public relations, then went on to be the Community Relations Officer for First Hawaiian Bank.
Ann was deeply committed to Honolulu, it's life and its people. As a young malihini she encountered the aloha of Hawaii and in return offered her heart, her hands, leadership, insights, enthusiasm, and experience. Although her vivacity and sharp mind were eventually lost in her battle against dementia, she remained to the end, loving, compassionate, and incredibly full of joy. Her survivors grieve her passing and continue to be inspired by her example. They would also like to express their deep thanks to the staff of Acadia for the loving care given to Ann over the last 14 years.

A'ole pau ke Aloha.