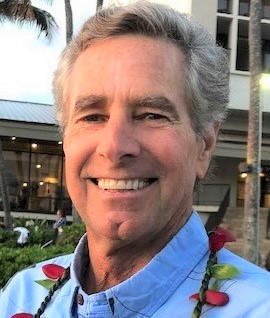 71, passed away peacefully on January 6, 2022, at his home in Hale'iwa, Hawai'i, with his wife and children by his side. He is survived by his beloved wife Sally Jane Hartman, daughter Karma Bass (Chris), daughter Drew Hartman, son Duke Hartman (Carolyn), and grandchildren Brock, Kaia, Zoe, Georgia, and Rocky who will forever know him as "Poppy." He leaves behind siblings, an aunt, cousins, nieces, nephews, and stepfamily members and friends, whom he loved dearly.
Ralph found his spiritual calling in the practice of medicine. After moving from his hometown of Stuart, Florida, to O'ahu to surf in the mid-1970s, he attended medical school at the University of Hawai'i, thanks to the support of its financial aid, for which he remained grateful throughout his life. He then moved to the North Shore and spent a 31-year career performing holy, healing work as a physician, humbly serving families of those who serve in the U.S. Army at Schofield Barracks. He practiced medicine from the heart and firmly believed in the power of love, miracles, and in treating his patients as part of his 'ohana. He was beloved by patients, colleagues, and supervisors, receiving the Commander's Award for Civilian Service upon his retirement. During his recent journey with prostate cancer, he showed incredible courage, grace, and faith.
Love defined Ralph, and he shared his love with everyone he met. His generous spirit and heart for service shone in how he freely treated and helped people, young and old. He loved nature and the outdoors, especially surfing. He was insatiably curious and loved reading and learning, especially about the intersection of science and faith. With his ever-positive attitude, in his final days he encouraged his friends and family with the words, "Don't cry because it's over, smile because it happened."
True to form, Ralph performed another, final act of helping others by donating his body to the John A. Burns School of Medicine (JABSOM) at the University of Hawai'i. Services will be held later when his ashes are returned to the family and ultimately to his beloved Pacific Ocean.


If desired, contributions to JABSOM MD Alumni Scholarship Fund, to the North Shore Community Land Trust,
or to Unity Church of Hawai'i would be welcome.