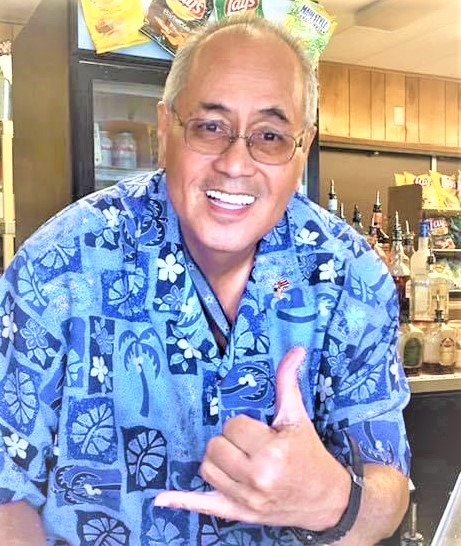 73, passed peacefully Jan 7th, 2022 at his home in Waikiki.

He was born May 28th 1948 in Honolulu. The eldest child and son of Alfred and Mary-Glennie Andrews Tagupa. He is survived by his wife Francine "Frannie" G. Dudoit-Tagupa, daughter Kanani (Siu) Dudoit-Eshelman, sons, James R.K. "Kelii" (Ailina) Tagupa, and Byron A. K. (Keola) Tagupa. 8 grandchildren and 1 great- grandchild. Survived also by his sister, Mary-Glennie (Nolan) Tagupa-Kashima, many nieces, nephews, cousins and Aunties.

As a young boy and teenager, he enjoyed swimming and surfing and the friendships he made as he competed on swim and water polo teams. Kimo was a proud graduate of Kamehameha Schools Class of '66, where his classmates became his life long friends.

Kimo was a bartender extraordinaire beginning in the early 1970's… After working over 50 years at his profession he retired last year from The Hale Koa Hotel in Waikiki. At the Kapalua Hotel in Maui he created his special drink, "Kimo-theraphy". He also shared his mixologist talents at such local favorites like The Jazz Cellar, The Red Door and The Sheration Waikiki.

Kimo was a die hard Dallas Cowboy fan...."How 'bout them boyz !" He especially loved playing golf with his best friends and KS classmates. He enjoyed sharing sips of wine, a smooth cigar and 'ono food with family and friends. He was friendly, genial and a little kolohe and could weave an entertaining story like no other...and always with a great big smile, a laugh and a "shaka". But his most favorite pastime was anything to do with his mo'opuna.

Visitation: 11am-12pm; Services: 12:30 pm on Saturday, February 12, 2022 at Keolalaulani Halau O Lapa O Laka, 46-003 Alaloa St., Kaneohe, HI 96744. Burial will be held at a later date.

Aloha 'oe e Kimo… know those who loved you will miss you.