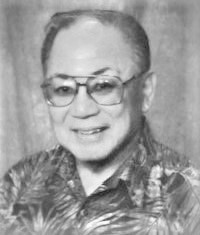 83, passed away peacefully on December 1, 2021 in Las Vegas, NV. Predeceased by sons Garrett and Wayne; parents Yoshio and Uta; siblings Yoshiharu Miyahira, Mildred Richards and Grace Brewer; survived by his wife Jean Ishida Miyahira; daughters Audrey Miyahira, Teri (Mark) Domingcil, Joni (Gavin) Takeshita; siblings Patsy Young, Michael (Ina) Miyahira, Mitsuji (Jane) Miyahira, Richard Miyahira, Steven (Laraine) Miyahira; grandchildren Ron (Eunice) Ishida, Steven (Dara) Camarao; great- grandchildren Hailey and Jackson Ishida, Amaya and Kekoa Camarao; and special nephew Roy (Vida Ann) Miyahira. Stan received a Master's degree in California, then earned a PhD at Cambridge Graduate School. He worked as a school psychologist at the Los Angeles Unified School District in California and in Clark County, Nevada.
His life-long passion involved competing in Olympic and Power Lifting National and World tournaments. In 2006 Stan wrote and published Olympic and Power Lifting: Foundation in High School, based on scientific conditioning and weight lifting programs combined with his lifetime of experience and knowledge.
In 2011 Stan wrote and published the book, Na Leo (Voices) from the Past: Boarders of Lahainaluna High School, to share personal narratives of former fellow boarders, offering unique insights to boarding life through their eyes.
Private service was held at Punchbowl National Cemetery followed by burial at Maui Memorial Park.