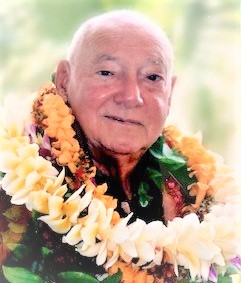 Gilbert G. De Motta, a retired employee from Hilo Coast Processing Company and Jack's Tours, passed away peacefully at his home in Hilo, Hawaii, on December 20, 2021. He was 89 years old, just eight days short of his 90th birthday.

He is survived by his wife, Hannah De Motta, his children, Dr. Howard (Lyn) De Motta of Mililani, Hawaii, Gayle (Kenneth) Higa of Wainaku, Hawaii, and Wesly (Selena) De Motta of Pepeekeo, Hawaii, along with his many grandchildren, great-grandchildren, and great-great-grandchildren.

Gilbert was born at Pepeekeo Sugar Co. Hospital, Pepeekeo, Hawaii, on December 28, 1931, to Manual and Angelina De Motta of Pepeekeo. He graduated from Hilo Vocational School with a degree in Welding Technology and was later employed as a welder with Hawaii Cane Products, subsequently sold to Flintkote Company. In 1950, he took a welding position with the Pepeekeo Sugar Plantation (later Hilo Coast Processing Company), which catapulted his 43-year career with the sugar industry. After his profession with the sugar business, Gilbert transitioned to a career with Jack's Tours, where he later retired as a Tour Bus Driver. He also served with the U. S. Army during the Korean War and after with the U.S. Army Reserve.

Gilbert was a devoted husband, loving father, giving grandfather, and a loyal friend and worker that enjoyed riding his Harley Davidson motorcycle at every opportunity he had. He was well known in the community because of his long-time relationships with the ILWU and the affordable and elder housing development within Hawaii County and the State of Hawaii. A housing community is named the "Gilbert De Motta Waikoloa Gardens" for Gilbert's endless and tireless contributions to help the many ILWU members, pensioners, and their families that allowed them to continue to live on the Hamakua Coast and in other communities across the Big Island.

There are not enough words to fully express our heartfelt thanks for the sympathy, love, kind words, and support extended to our entire family during our time of loss. Gilbert will be deeply missed but will always remain in the minds and hearts of all that know him. On January 20, 2022, private services took place at Dodo Funeral Home, followed by burial with military honors at the East Hawaii Veterans Cemetery. A celebration of life is being planned.