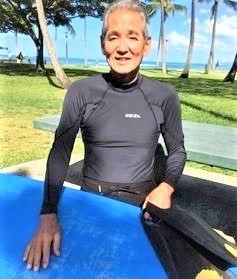 73, passed on 2/3/22 at 12:59 PM at QMC WEST.

1967 Farrington graduate. Enlisted in the U.S. Air Force with a rank of Staff Sergeant. Attended Kapiolani Community College and earned a Bachelor's Degree at UH Manoa Shidler College of Business. Former Audit Section Chief for State of Hawaii, Department of Labor & Industrial Relations, Unemployment Insurance Division. 1989 Governor's Award honoree for distinguished State Service for the Department of Labor & Industrial Relations.

During retirement, loved surfing at Waikiki, stand up paddling, listening to music, undertook ukulele lessons and enjoyed ahi limu poke. Once a member of the Pearl City Bonsai, Pearl City Lions Club, and a canine obedience trainer at Kamamalu park.

Predeceased by his parents, Eita and Kikue Takazawa, his brothers Robert and Ralph Takazawa and sisters Betty Whang, Thelma Kunimura, and Leatrice Ing.

Survived by wife, Judy and two sons, Aric (Kanako), Kevin, and two grandchildren (David and Sophia). Siblings: Rosaline Sasaki, Grace (Richard) Shojinaga, Lily (Roger) Yamamoto, Gail (David) Fujikawa, Dean (Florence) Takazawa, Ellen (Tommy) Tokunaga, Faye (Hamilton) Kobayashi.

Special thanks to the staff at QMC Punchbowl, QMC WEST, Ka Punawai Ola, Malama Ola and Bayada.

Private services will be held at the National Memorial Cemetery
at Punchbowl.