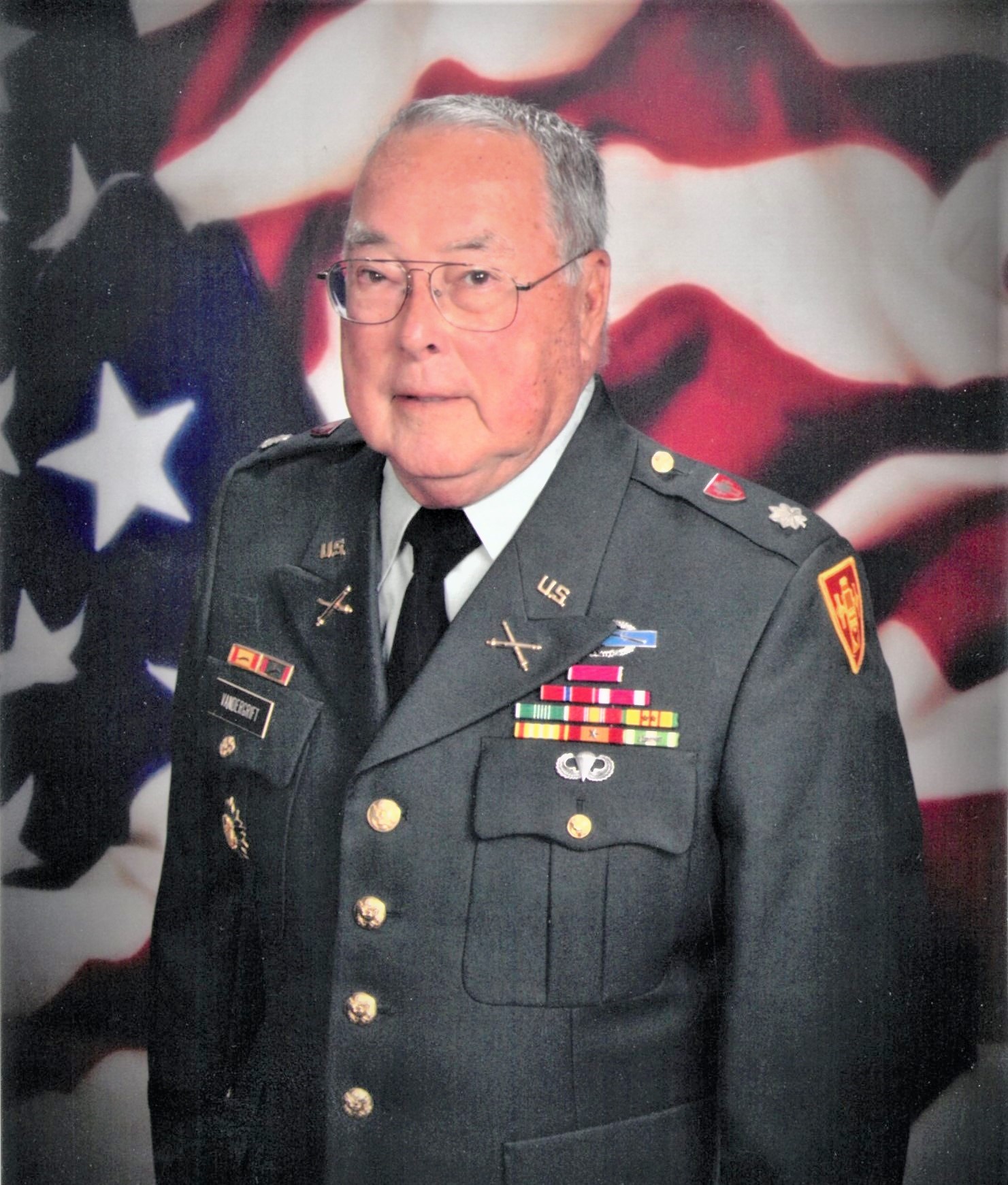 Kennard Smith Vandergrift Jr. was born November 11, 1934 in Honolulu, Territory of Hawaii, and passed away peacefully on February 1, 2022 in San Antonio, Texas.

He is survived by his sister, Jill Curtis; daughters, Patricia Fisher and Julia Ortiz; sons, Kennard Alan and Daniel Robertson; eight grandsons, Jake and Mark Burns; Daniel, Kennard, and Bryan Vandergrift; Justin and Andrew Vandergrift; Dorian Ortiz; four great grandchildren, Kinsley and Alexander Burns; and, Arya and Alyssa Vandergrift. He is preceded in death by his father, Kennard Smith Vandergrift Sr. (LTC. US Army Ret.); mother, Mildred Muria; and infant son, Kennard III.

From a very young age he was groomed to become a US Army officer. His father, an Army officer stationed at Schofield Barracks, an Army post in Hawaii, began dressing him, in Army uniforms, when he was 6-7 and taking him to observe and sometimes, participate in military inspections. As a budding soldier he experienced firsthand the beginning of WW II, when the Japanese attacked Pearl Harbor and other military installations on Oahu, Hi. In fact his home in Schofield Barracks was strafed by a Japanese plane. When he was 10-11 he was in a junior ROTC program and when he reached high school age he attended and graduated from Fork Union Military Academy, Va. He then attended the University of Richmond and graduated with a BA and commission as a 2nd. Lt US Army Artillery. At Richmond he was Senior class Secretary, lettered in track, and was a member of the honorary military society, Scabbard and Blade, and the social fraternity Sigma Phi Epsilon.

He entered the Army at Fort Bliss, Texas and during the next 20+ years had a multitude of interesting and challenging assignments. His favorites include a tour in West Germany during the height of the Cold War when he commanded a field artillery Battery with the 1st How. Bn. (SP), 22nd Field Artillery, 4th Armored Division. The mission of the unit, if war was declared, was to slow the advance of the Russians across the Czech border and allow US forces time to establish a defensive position on the Rhine River. For having the best battery in the battalion, determined during the annual training test, he was awarded the Army Commendation Medal. On completion of that tour he attended Airborne school at Fort Benning, GA and earned his parachutist wings.

He volunteered for duty in Viet Nam and as a Field Artillery officer met an interesting challenge. Since there was a shortage of Infantry officers, due to a high number of casualties, he was asked to fill an Infantry position. He agreed and was assigned as Senior District Advisor in Phu My District, II Corps. He commanded a team of 12 responsible for working with the local paramilitary and sometimes, US forces of the 1st Air Calvary Division in operations against the enemy. For his efforts he was awarded the Combat Infantryman Badge and Bronze Star. In addition he was awarded the Cross of Gallantry (Silver Star) and National Honor Medal by the government of South Viet Nam.

Probably his most interesting and taxing assignment was on the Army General Staff, in the Pentagon, as Executive Assistant to MG Freund, Deputy Assistant Chief of Staff for Intelligence. Working 12hour days, six days a week, he attended meetings of the US Intelligence Board chaired by the head of the CIA, where decisions were made concerning worldwide US intelligence policy. He also attended briefings for the Chief of Staff of the Army, General Westmoreland and Military Intelligence Board meetings of all the intelligence chiefs of the US Services. For his service he was awarded the Army General Staff Identification Badge and the Meritorious Service Medal.

Returning to Hawaii for his final tour of duty he was assigned to command and control operations for the Commander-in-Chief Pacific. For his service he was awarded the Legion of Merit, which at the time, was one of the US Army's highest awards for meritorious service.

He is a graduate of the US Army Command and General Staff College and earned an MA at Texas A&M University (Gig 'Em). It is interesting to note that while at the Staff College his classmate, carpool, and poker friend would later become Chairman of the Joint Chiefs of Staff and Secretary of State – Colin Powell. On retiring from the Army he was employed as Vice President, Administration, International Savings and Loan followed by his last job as Administrative Manager at the BHP petroleum refinery in Hawaii.

In his retirement years he spent enjoyable time travelling, visiting over 60 countries and 49 states (Iowa is the only state he had not visited. Since he was a lover of all good food Tom & Patti offered to take him to the Blue Ribbon Bacon Festival to complete his quest to visit all 50 states). He made over 30 cruises including two transatlantic. His favorite trip was visiting the Great Pyramid of Giza. His least favorite was riding a camel at Giza egged-on by a friend. He also enjoyed playing golf with friends, Bruce, Michael, Steve, and Bryan. Had it not been for a bad shoulder he might have earned a living playing on the PGA Champions tour? He was also an accomplished ukulele player and considered going on tour with his teacher Katrina. They were well known as the K&K duo. Who said he didn't have a sense of humor?

GRAVESIDE SERVICE WITH FULL MILITARY HONORS; FRIDAY, MARCH 4, 20221, 10:15 AM at FORT SAM HOUSTON NATIONAL CEMETERY, 1520 HARRY WURZBACH RD. SAN ANTONIO 78209. Father David Read, St. Helena's Episcopal Church, will officiate (facemask are required). Part of his ashes will also be scattered in Hawaii, where his father and mother are buried. Please make any memorials to the local Abode Home: https://abodehome.org/.