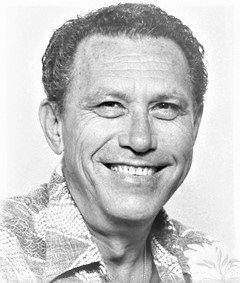 June 13, 1927 – March 7, 2011




Born at home on Miller Street on the slopes of Punchbowl and raised in Kaimuki, Clifford Francis Kanehoalani Anderson passed away on March 7, 2011 in Olympia, Washington where he and his wife, Eileen, had settled to be close to their children and grandchildren residing on the mainland. The first of five children born to Gustav and Lorita Hansmann Anderson, he was educated at the Kamehameha School for Boys, Roosevelt High School and the University of Hawaii.

During World War II, Cliff served as a Military Policeman and later continued serving in the Army reserves and Army National Guard at Ft. DeRussy. Following in his father's footsteps, Cliff then began an illustrious 30-year career with the Honolulu Police Department starting as a patrol officer in 1950, and in 1966 was named City and County Employee of the year. He retired as a Major in 1980 to support Eileen's candidacy for Mayor of the City and County of Honolulu. He then served as the Head of Security for Kamehameha Schools, retiring for the second time in 1985.

In 1959, as a testament and honor to his native Hawaiian lineage, Cliff became a highly respected member of the "Order of Kamehameha I" and from 1982 to 1992, Ali'i Sir Clifford Francis Kanehoalani Anderson served as the 11th Grand Master and 1st Ali'i Nui of the Order. It was during his tenure that the Order reverted back to its original name – the "Royal Order of Kamehameha I."

His family and public service to his community remained foremost in Cliff's life, and he and Eileen were committed to improving the lives of Hawaii's children through organizations such as Boy and Girl Scouts, Aloha United Way, Liliuokalani Trust, Calvary Episcopal Church and Kaneohe Little League.

Cliff's life, his love of family, his hearty laugh and his beautiful "kolohe" smile will be remembered and celebrated in private services at the National Memorial Cemetery of the Pacific where he will be inurned with his wife Eileen who passed away in November, 2021. He is predeceased by his parents Gustav and Lorita, brother Leighton, and grandson Christopher, and survived by his children - son Mark, daughters Patty and Lori, sister Sandra, brothers Leslie and Duane, four grandchildren and 11 great-grandchildren.

A hui hou…
"Aia mau me 'oe ko makou aloha"
"You Are Forever in Our Hearts"