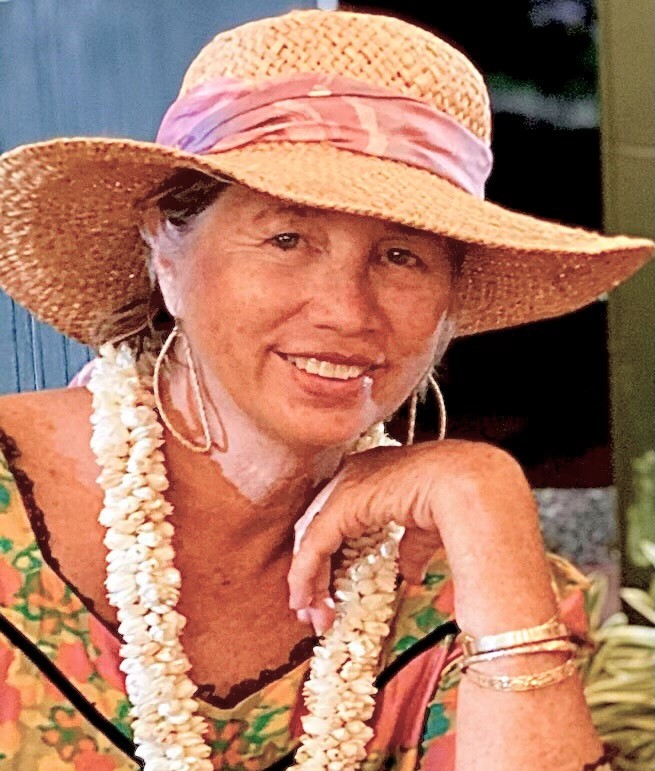 Corene Kehaunani Helm, beautiful and loving wife of 46 years to Adolph Helm, and the mother of their two sons, Kekamaikaikamaikalani (Ane) and Kanohowailuku (Lindy), passed away peacefully at home on the evening of January 3, 2022. Affectionately called "Tutu", she was blessed with six beautiful mo'opuna.
Corene was born and raised in Kaneohe and was the eldest child of five children born to the late Donald and Loretta Morgan. She graduated from Kamehameha School in 1968, and after obtaining a bachelor's degree in English Education from Chaminade University, she moved to Molokai in 1974 to teach at Molokai High School. Spending her teaching career on Molokai she also taught at Kilohana and Kualapuu Elementary as well as Molokai Middle School.
In addition to teaching her students reading and writing she also spoke and taught Hawaiian language studies. She spent her final years with the Department of Education (DOE) as a special education counselor. Known for mentoring and cultivating other teachers she was selected by her fellow peers, as the 1996 Maui District teacher of the year. Corene retired in 2011 after working for 30+ years with the DOE.
Leaving a lasting imprint serving others she stated, "I believe in teaching the values of honesty, loyalty, respect and kindness. As educators we need to learn to extend ourselves beyond the walls of the classroom. I would like to see more caring and sharing as a whole…. We need to reach out to people in need." A beautiful, gentle and spiritual person Corene treated all people with respect and aloha.
After retiring she started a business and continued her educational outreach work with the Kupuna and Health Care community. She also served as a lecture and parish volunteer for Saint Daimen of Molokai Catholic Church and contributed to various organizations throughout the state.
Fondly known as the tea lady, she created a business called "My Sisters Tea." In the form of specialty teas, healing oils and salves, she developed products that were made to help others. A vertical integrated business, all her products are grown and processed on the Molokai Homestead she lived on. A legacy she leaves with her family to continue, she always shared her products with aloha and kindness.
Corene's life with her family in Kaneohe and on her ancestral and homestead lands on Molokai will forever be cherished and memorialized. Her love for Ke Akua, 'Ohana and the 'Aina represented the three key foundational ingredients in her life. She loved her family with all her heart and soul and embodied a spirit full of aloha, compassion, and unconditional love.
Corene's memorial services will be held at Saint Ann Catholic Church in Kaneohe on March 12, 2022, and at Saint Daimen of Molokai Church, Molokai, on March 26, 2022. Visitation: 9:30 a.m.; Reflection: 11:00 a.m.; Celebration of Mass: 12:00 p.m.