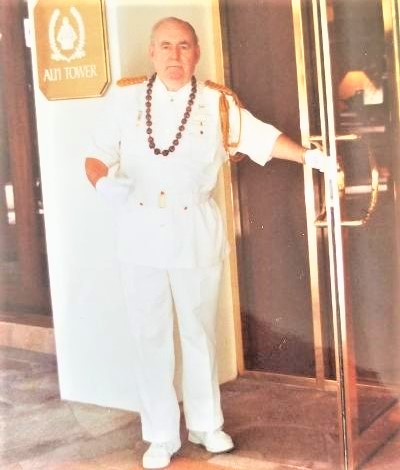 96, of Honolulu, HI and Anchorage, AK, died in Anchorage on August 9, 2021. He was born in Barnsdall, OK on March 10, 1925.
He was known to many as the 'Grumpy Greeter' at the Alii Tower of the Hilton Hawaiian Village. He worked all over the world and had an adventurous life. More about him can be viewed on the Cremation Society of Alaska website.
He is survived by seven children, 17 grandchildren, 20 great-grandchildren and 2 great-great-grandchildren. His parents and siblings as well as wife Josephine/JoAnne Paglialungo Conklin, a daughter Marcia, and sons Brian and 'baby boy' precede him. Condolences: phonelady80@yahoo.com.