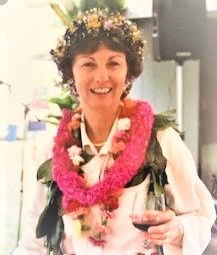 Linda Armour Wakayama unexpectedly passed away on November 19, 2021 at her home in Kaneohe. Linda was born August 2 1947 in Audubon, New Jersey, to Walt and Ruth Armour. Her Dad Walt owned a very successful Tire Retreading Business, Trio Tire Co., and Linda had a great childhood growing up in the beautiful town of Haddonfield, New Jersey. She was an only child, and therefore her parents afforded her everything: ballet and piano lessons, traveling, fast cars, and even a horse to go horseback riding, and she even rode in Madison Square Garden in NY city as a child. Horseback riding would become a life long interest. Some winters the family spent in Mexico. The connection to Mexico was strong, and Linda even spent a year of high school there becoming proficient in Spanish.

After high school, Linda attended Franklin Pierce College in New Hampshire and the U of New Hampshire where she was on the ski team. Linda first came to Hawaii in the early 1970s , drawn by its beauty, weather, people, and to attend the U of Hawaii. And she never left. She settled in Windward Oahu near Kaneohe Bay, and eventually her parents followed her from New Jersey and lived right down the street.

Her early years in Hawaii found her working for small advertising and marketing firms. However her strong individualistic personality soon found her owning her own business. She created the company Clambake Hawaiian Style, a seafood catering business. She originally got the idea while in college summertime in clambakes near Ogunquit, Maine. She designed and invented the cookers to do an "above the ground" clambake in Hawaii. She went on to cater parties on most of the Hawaiian Islands, flying her crews and equipment to the party sites. Linda owned and operated this very successful for over 30 years. In the mid 1990s Linda also started the Inner Label Company, which specialized in distributing Microbrewed and specialty European beers in Hawaii. She recognized the need in Hawaii at that time for these types of beers. She was ahead of the times and correct on the market, which grew enormously soon thereafter. Linda was responsible for introducing to Hawaii beers like Rogue, Pyramid, Deschutes, Sierra Nevada, Red Hook, Erdinger, Chimay, etc

Tragically Linda was diagnosed with Multiple Sclerosis in her 30s and eventually had to sell or close both businesses. On November 25, 1990 she married Alvin Wakayama at sunrise at their beach home on Kapoho Bay on the Big Island, the eastern most point of the Hawaiian Islands. Family and close friends were treated to a stunning sunrise ceremony and a festive clambake Hawaiian style. Linda helped her husband work in his small business, the Kamuela Liquor Store, and became the treasurer/book keeper.

Linda is to be remembered by her many relatives and friends as a tireless worker and a kind and generous person with an effusive life spirit. Although afflicted by MS, she never let the disease define her life.

In spite of the fact that she was confined to a wheelchair, Linda never stopped pursuing her interests - traveling, fine wine and dining, following her beloved NY Yankees everyday (Even attending a live game every year), reading, swimming, shopping, and spending time with her incredible support dogs. Her passion for living gave her a full and accomplished Life. Many Mahalos and Thanks to her many family, friends, and acquaintances for giving Linda a wonderful life on this Earth. Linda is survived by her Husband Alvin, her incredible friend Shannon Decosta, and her incredible dogs Petey and Lucy.