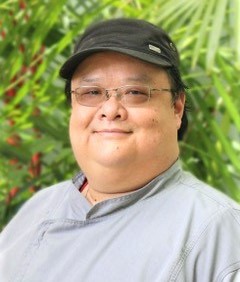 46, of Aiea, Hawaii, passed away on February 3, 2022. He was born in Honolulu in the bicentennial year, 1976, and spent his youth in Hawaii enjoying the ocean and family.
Chris graduated from the Kamehameha Schools, Kapalama, where he was active in the orchestra, rifle team, and JROTC. He moved to the Pacific Northwest and after graduating from Le Cordon Bleu, Western Culinary Institute, he worked as a chef and food service manager in Idaho and Washington. Recently he came home to work at Whole Foods and then as Food Service Director at the Plaza Moanalua.
Chris was an enthusiastic gamer and techie. People who knew him say he was "a favorite customer," "a favorite patient." He was a beloved friend. They say, "I wouldn't have made it through high school without him" or "I wouldn't have made it through college without him." A gentle, kind, thoughtful man, he rose to whatever challenges life brought him.
He is loved and missed by his mother, Belinda Chung, his brother, Nicholas Alika Chung, and his father, Richard Darrell Chung.

There will be a celebration of life in April. Please email us at CKCMemorial@gmail.com for details. His obituary and photos will be posted after the celebration on www.dignitymemorial.com.