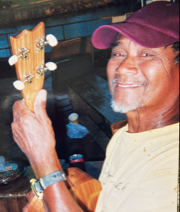 Raymond "Sonny" Ragragola of Waialua, Oahu, passed away, peacefully, on October 28, 2021 at Pali Momi Medical Center. He was at the prime of his life of 88 years. Sonny was born on January 10th, 1933 in Lahaina, Maui. He joined the Hawaii Army National Guard and served in the US Army with the 27th Wolfhounds, 2nd Inf. Reg. at Schofield Barracks. Lastly, he served 32 years of Civil Service with the Department of Public Works at Schofield.
Predeceased by parents Roman and Simeona Ragragola, brothers Pas & Billy Ragragola, daughter Michelle Renee Silva (23) and grandson Henson Silva (9). Sonny is survived by the love of his life Melisia "Millie" Caparida Ragragola, with whom he celebrated 67 years of marriage this past year; sons Derek (Lyn) and Lyle; four grandsons: Lyle Jr. (Cheryl), Kelika (Carly), Kaiki (Anya) and Landon; seven great grandchildren: Cheyden, Leinea, Liam, Mason, Blake, Josie and Alana; sister Marina Que of California.
Above anything else, Sonny had a genuine and enduring love for the ocean. He was an avid fisherman and scuba diver until the age of 80. Sonny was also a skillful craftsman with his hands and he sewed his own throw-nets for friends and family. He was also passionate in creating poi pounders by chisel and hammer. He gifted his poi pounders to his friends, relatives and even those he had just met. Sonny played the ukulele by ear, and he loved his music. After pau hana, he'd hang out at the harbor with "the yum yum tree gang", enjoying beer, pupu, cracking jokes and kanakapila all together as one. Sonny loved to dance and he and his wife Millie won 1st place with Dancing with the Stars back in 1954. He loved to cook for his friends and family. He loved to golf and was a member of the Birdies to Bogies Golf Club and the 7-11 Club.
He was a man full of morals & integrity who embodied a positive outlook on life. He was a virtuous man who inspired everyone he touched. His legacy and the gifts he left behind will live on forever.
We will miss you Sonny…the one who says LITTLE, but does sooooo much. "It is not length of Life, but Depth of Life". With our Everlasting Love and Fondest Aloha…Until we meet again…

A Celebration of Life will be held on Saturday, April 9, 2022 at Hale`iwa A`lii Beach Park near the lifeguard tower from 10:00 a.m. to 2:00 p.m. Ashes will be scattered privately at a later date.