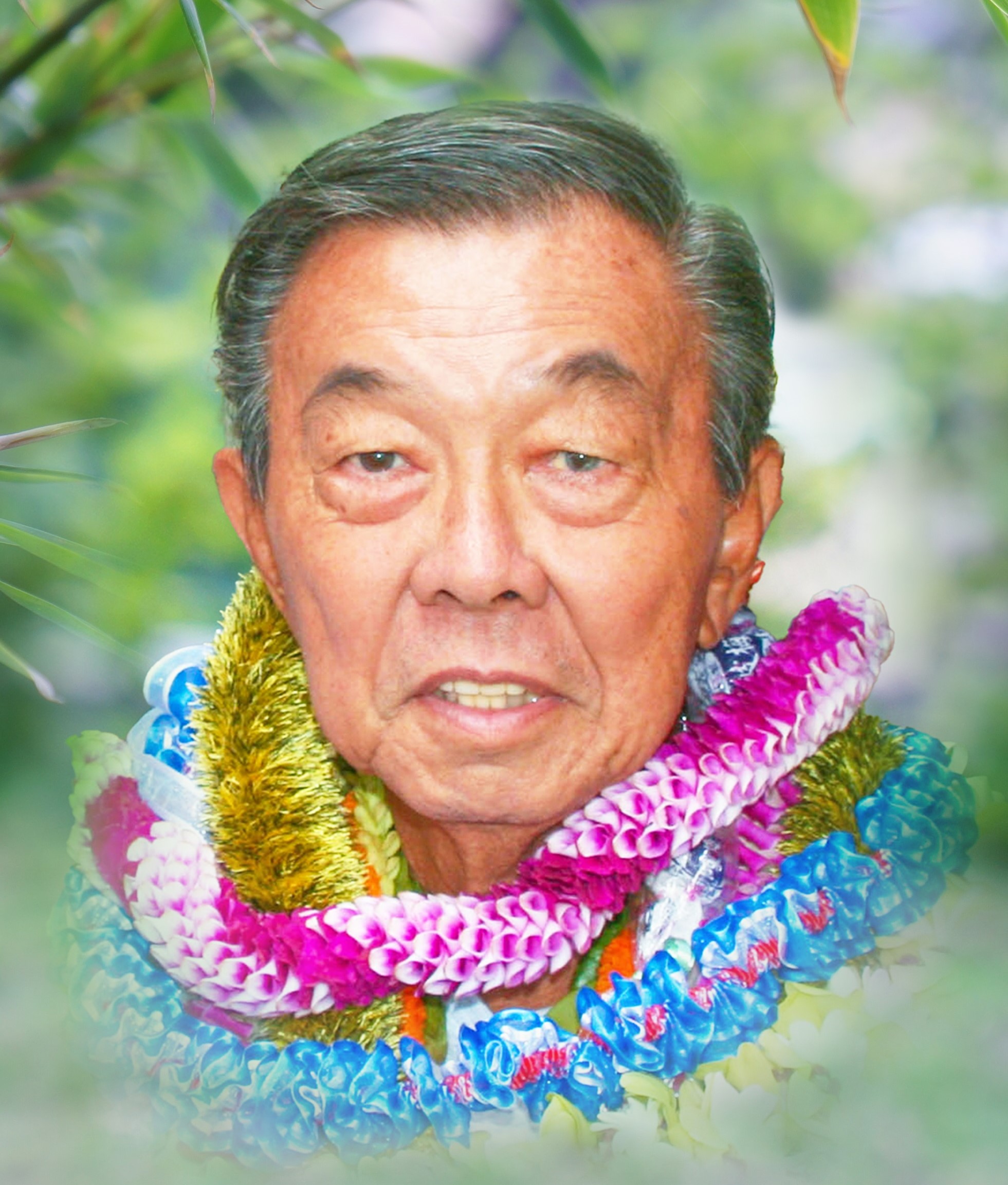 Wilbert "Ah Ping" Lee, otherwise known as "Mr. Lee" to many in Pauoa Valley, passed away on January 21, 2022 at the age of 86. He passed away deeply cared for by his two sisters, Eudora Lee and Sandra Murabayashi, and all of the family members of the Lee 'Ohana. He died peacefully in his longtime home in Pauoa Valley a few steps away from his beloved Booth Park.
Wilbert was born in 1935 in Honolulu, Hawaii to Ella Lee and Wing "Kauai" Shin Lee and was raised his entire life in beautiful Pauoa Valley. He attended Pauoa Elementary School, Kawananakoa Middle School and graduated from McKinley High School before Roosevelt High School was built. After high school Wilbert attended Cannon's Business College and earned his Associates degree in Accounting. As a young boy, Wilbert played billiards in the family carport as his father owned and operated a well-known billiards hall located on Bethel Street in Chinatown. He also bowled and delivered the newspaper throughout Pauoa Valley as some of his nephews and nieces did in the many years following.
As a young man, Wilbert learned to work hard and take on whatever job was available to support himself and his family. Like many, he joined the National Guard to serve his country. After graduating from Cannon's, he was hired at the Board of Water Supply (BWS) as a messenger. Throughout his career he served in various positions before becoming an inspector and eventually the senior water service inspector. Wilbert was even honored as an "Employee of the Year" by the BWS in 1976.
Although Wilbert never married and never had children of his own, through his 50+ years of volunteering in the Pauoa community (1955-2007) running the Pauoa Athletic Club (baseball, basketball and volleyball) as a part of the well-known Police Activities League, Wilbert ended up being a parent and uncle to hundreds, if not thousands of keiki. Through sheer force of will and dedication, Wilbert, founded the Pauoa Athletic Club. He galvanized community members and others to volunteer and coach countless baseball, basketball and volleyball teams, for both girls and boys growing up in the Pauoa community and beyond.
He knew each child athlete by name and whether they showed up for practice each day, or not! In many ways, Wilbert was a father-figure to many keiki, being a strong and stable presence in their lives as they navigated sports, education, life and beyond. He never cared much for himself and always took care of the keiki, doing the best he could to guide them, coach them, teach them and bring them along. There are countless stories of Wilbert purchasing baseball gear, basketball shoes, uniforms and even self-funding trips to sporting events to neighbor island tournaments for kids who could not afford such items and trips. In 1969, the Pauoa Athletic Club's 13- and 14-year old P.O.N.Y. baseball team won the World Series championship. It was the first time a team from Hawaii won a baseball world title.
In 1976 the Honolulu City Council unanimously adopted a resolution honoring Wilbert for his sports and community volunteerism stating in the resolution, "Nothing was too menial or too difficult for this 'one-man crew' who arranged for sponsors to finance uniforms and equipment, sat through planning sessions and games, repaired and stored equipment, and even chauffeured participants to and from countless number of sporting events."
Over his many years of service, Wilbert was honored with many awards, including by the Hawaii Bar Association which presented him with the Liberty Bell Award in 1970 for "outstanding contributions to good citizenship in the community," in 1976 by the Honolulu Elks Lodge 616 "for his consistent and devoted dedication to a life of services to others," by the Honolulu Police Department in 1977 as a recipient of the Certificate of Merit Award for "recognition of distinguished services rendered to the Honolulu Police Department and to the community," in 1977 by the Pauoa School Parent Teacher Association for more than 20 years of devoted and dedicated services to the youth of Pauoa, in 1986 being nominated for the prestigious, national Thomas Jefferson Award, in 1995 being awarded the Chuck Leahey Memorial Award for outstanding service to the sport of baseball in Hawaii, and in 2001 by Governor Ben Cayetano with the Governor's Kilohana Award. Wilbert was even featured in a Summer 1986 edition of Newsweek as "The Man Who has 5,000 Children—So Far." Wilbert, aka Ah-Ping, aka Mr. Lee was a strong, proud and good man who is loved and will be missed by many.
Wilbert is survived by: sisters Eudora Lee and Sandra Murabayashi (Ron); nieces and nephews Wallace Lee (Catherine), Michael Lee, Robin DeMello (Gene), Greg Schlais (Jessica); great-nieces and nephews Nicole Alices (Matt), Shanna Hernandez (Renante), Westin Lee, Kanoa Lee, Hunter DeMello, Zoey Schlais, Amelia Schlais and Aukai Schlais; and Great-Great Nieces and Nephews Ezekiel Alices, Aydin Alices, Kennedy Alices, Kalai Alices, Josiah Hernandez, Kona Hernandez, Noah Hernandez, Nalaja Lacanaria-Kaai, Makeila Orta, Aliya Lee, Awenna Lee, Iliana Lee and Ella Lee. He is also survived by the many keiki of the Pauoa Athletic Club. He will be missed by his many nieces, nephews, family members and friends.
The Lee 'Ohana would like to thank the many caregivers that cared for Wilbert the last several years, including the following: Irish Lagundi, Michael Flores, Marisa Garnet, Christine Calapit, Lani Flores and Liezel Baldoria.
A memorial service will be held on Saturday, April 23, 2022, at 10:00 am at Diamond Head Mortuary, located at Diamond Head Memorial Park (535 18th Avenue, Honolulu 96816). Visitation with the family will be held from 8:30am to 10am with a service to follow from 10-11:15am. Due to the potentially large number of people that may attend and the space limitations of the chapel, the family strongly encourages those that wish to attend to come early.