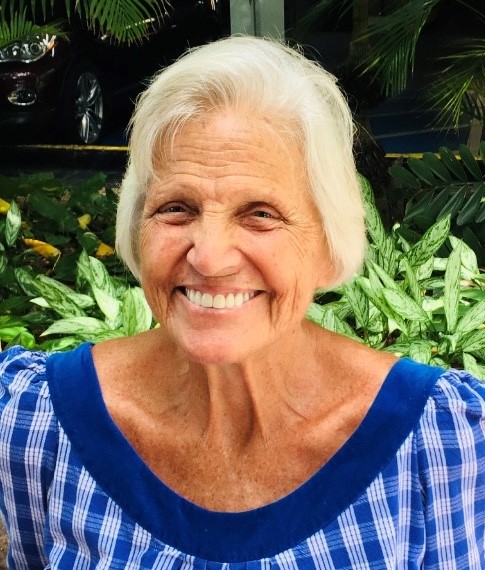 Alicia "Auwe" Morris passed peacefully with family by her side on March 16th.
The great-granddaughter of Island business pioneer, James Campbell, she was given the Hawaiian name, Maipinepine in honor of her great-grandmother, Abigail Maipinepine Campbell. Born in Waipahu, O'ahu at the Plantation Hospital, she grew up with her brothers and many cousins. They often congregated in Manoa Valley at the home of her grandmother, Muriel Shingle Amalu, or at the family home in Punalu'u. Weekends were filled with body surfing at "Pounders" or Makapu'u, ti-leaf sliding on Tantalus, matinees at the old Waikiki Theater and cheering for her alma mater, Punahou ('52). The nickname Auwe began in childhood and stuck (aren't older brothers wonderful?). An entrepreneur, Auwe raised her four children while operating the family business, Ross Sutherland's. Later in life, she reconnected with and married Charles "Sammy" Morris. Over the years, the couple made their homes on Maunalani Heights, Waimea on Hawaii Island and, finally, in Kahala.
Auwe was always open to trying new things and meeting new people; her quick smile was both warm and genuine. An outdoors person, she seldom missed her daily swim and loved regular beach walks while hunting for shells. Her enthusiasm was uplifting and her laughter contagious. In the final years, she discovered the joy of "puzzling" and was never without a puzzle, or a needlepoint project, in progress. Auwe was a true keiki o ka'aina. She enjoyed the company of friends and especially savored her role as mother, grandmother, great-grandmother, and Aunty.
Auwe is survived by her children, E. "Doanie" Hare, Cynthia "Kia" Campbell Beckert (Chris), H. Bailey Keaolani Ledesma (Tom), and Van C. Hare (Zoë); grandchildren: Samantha, Brandon (Gabby), Tony, Anuhea, Gus, Eliot, Keola and Liko; one great-granddaughter; her brother, Robert "Lindy" Sutherland (Cherry Anne) and numerous cousins, nieces and nephews. She was predeceased by her husband, Charles "Sammy" Morris; brothers, Fred Eugene Kalanikini Trotter and John Ross Sutherland.

The family wishes to send a special mahalo to the staff at
Kahala Nui and to caregivers from Ho'okele for their kindness and compassion. A Celebration of Life will be held at a later date. Donations may be made in Auwe's memory to the James & Abigail Campbell Family Foundation or any other charity of choice.