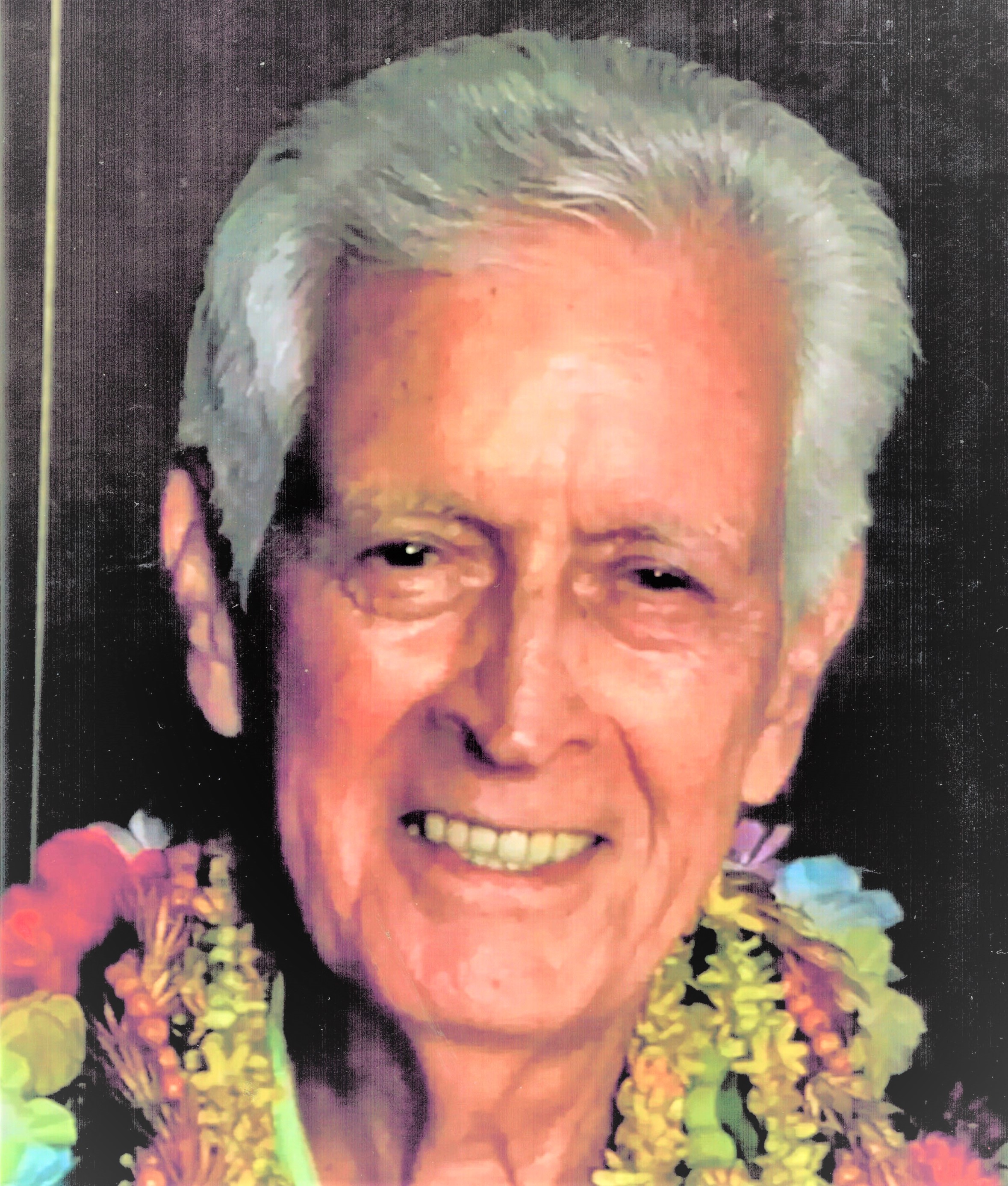 Ronald was born in Honokaa, Hawaii, to Manuel and Adelaide (Silva) Staszkow and had three siblings: Leonora (Lopez), Katherine (Alves Dennehy), and Robert (Bobby) Staszkow, all of whom preceded him in death. He is survived by his wife and five children: Ronald, Jr. (Barbara), Myron (Marthanne), Wendell (Robyn), Rhona Joy Lubomirski (Paul), Carmela Gaye Paola (Edward); 13 Grandchildren; 28 Great Grandchildren and 1 Great Great Grandson. Ron was extremely proud of his family and although they are spread around the country from Hawaii thru the West and East coasts, he kept in close contact with them and was always happy to have them visit or to visit them.
Enjoying travel with his wife and family, Ron visited many US states and foreign countries. During one trip to Europe, he even dined with English dignitaries at the Palace of Whitehall in London. One of his greatest passions was the game of Golf! He was a member of Moanalua Golf Club but played on courses around the world, including Scotland and in South Carolina where he proudly celebrated a Hole in One. His great pride and joy, however, was taking care of his home and property which he kept looking pristine and tropical garden lush.
Ronald attended St. Louis School and worked at Pearl Harbor during and after the war earning his apprenticeship certificate as an Electrician. His professional career started with Hawaiian Electric Company (HECO) at the age of 18 in 1945. For the next 40 years, working for HECO and HEPCO (a subsidiary of HECO), he advanced his way up to the management position of Electrical Maintenance Engineer providing engineering expertise in all phases of the production of electricity. With his vast knowledge and skills in motor rewinding being known in the industry, companies from the mainland would send motors to Hawaii to have him supervise the jobs. Retiring on December 31, 1985, he continued in a consultant position but ultimately gave it up to spend more time with his family and to care for and upkeep his property. Always a hard worker, he was a "do it right the first time" kind of guy. His lasting legacy will always be the lessons of ethics and honesty that he taught his children and their families.

A Celebration of Life for Ronald will be held on Monday,
April 11, 2022, at Valley of the Temples, Trousdale Chapel.
Visitation: 10:30 a.m.; Services: 11:30 a.m.; Internment: 1:00 p.m.

Gone from this earth but forever in our memories,
forever in our hearts...With Love, A Hui Hou!