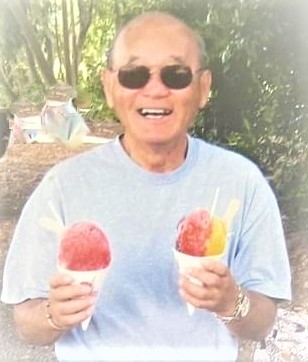 83, was born and raised in Honolulu, Hawai`i, and died peacefully on February 24, 2022 in Waipahu, Hawai`i. Known fondly as "Ki Boy" by his family and "Taka" by his friends.

He is survived by his daughter Toni (Charles) Rojas, and son Jason (Connie) Takeshita; grandchildren Jade Rojas-Letisi (Soane), Nikilani Rojas, Olivia Takeshita, Scott Takeshita, Dane Takeshita; and great- grandchildren Liam and Levi Letisi, along with his sisters and brother, Glory Ann Leong, Karleen Takeshita, Alvin Takeshita (Ki Ye), Lynette (Michael) Okamoto, Claire Benedictos, Sheree (Steven) Nakashima, and numerous nieces, nephews; and longtime high school sweetheart, Deanne Kekoolani.

He was preceded in death by his son, Jefferey Y. Takeshita.

Cremation services took place March 2022 by Mililani Memorial Mortuary. Celebration of Life e-messages may be sent to palama01@yahoo.com. In lieu of flowers and okoden (monetary offerings), Jason and Toni request donations made via check in their father's name to Special Olympics Maui Swim Team, PO Box 1842, Kahului, HI.