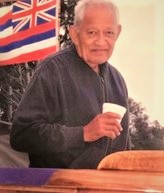 Chris Phillip Lincoln Naone passed away peacefully in his sleep on January 4, 2022. Born and raised in Nanakuli, Phillip graduated from Kamehameha Schools in 1950. He joined the Navy Reserves and served for six years traveling throughout the South Pacific while employed at Lualualei Naval Ammunition Depot. Dad retired in January 1989 and is remembered as a brilliant machinist who helped the U.S. Navy invent a torpedo target/launcher used for undersea torpedo practice.
While Phillip enjoyed building stock car engines and watching them race at Campbell Industrial Park, his greatest love/passion was building, reconfiguring, and repairing Hawaiian koa canoes. Canoes special to Dad include Hawai'i's famous Hokule'a, Wai'anae's wa'akaulua "Eala", Makaha Canoe Club's "Hanakeoki", his and Wally Froiseth's own "Malama", and the "Honomalino" owned by Kaipoha Canoe Club. He and his wife Miriam are also original founders of Makaha Canoe Club.
Dad turned 90 years old on Christmas morning and entered God's light the first Tuesday of the New Year. He is survived by sons Phillip Naone, Mark Whitford, daughters Hilda Kawaakoa, Ryannette Kahoonei, Shawna Keliinoi, Miriam Whitford, brother Charles (Leilani) Naone, many grandchildren, nieces, and nephews. We give God all the praises and glory and are forever thankful for Dad's life and earthly legacy.
Dad's funeral services will be held on Friday, April 22, 2022 at Mililani Memorial Mauka Chapel. Family and friends may visit from 9:00-10:00am with service to follow.