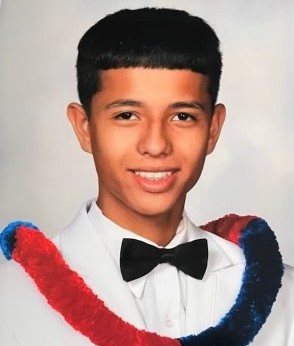 Ha'aheo Kolona, age 18, passed away on Friday, March 18, 2022. Ha'aheo, known to his family and friends as Ha'a, was born on December 11, 2003, in Honolulu, to Blake and Carolee Kolona. He was a high school senior at Saint Louis School.

Ha'a spent his childhood growing up along the Wai'anae Coast. His youngest years were spent in peaceful Makaha Valley, on his family's ranch, where he grew up riding horses, hiking trails, backyard camping, swimming in the stream, playing bare feet in the dirt and mud – all the outdoors a boy could want. As a happy, energetic child, Ha'a spent his time taking care of his family and the animals on the ranch. He was always the protector. As a teen, he continued to protect his mom and two younger sisters, loving and caring for them always. Ha'a was responsible and independent. He always befriended those around him, taking the time to reach out, connect to, and care for others, especially those in need of a friend and a hug. Ha'a had a unique way of connecting with children and adults that would leave a wonderful loving and lasting impression. His hobbies included skate boarding, horseback riding, hunting, and fishing. He recently picked up snowboarding and snowmobiling. He lived a short life, but he touched so many and was loved by so many that the love shared will last lifetimes.

Ha'aheo was preceded in death by his paternal great grandparents, Alfred Cambra and Lucille Adeline Jervis; maternal great grandparents John and Pearl Pacheco of Honolulu and Santiago "Shorty" and Miriam (Kapule) Espinas of Waimanalo; and paternal grandmother, Jeanette Kolona (Grammy).

Ha'a is survived by his father, Blake; mother, Carolee (Espinas); sisters Kawena and Kiana; paternal grandfather, David "Kawika" Kolona (Papa); paternal grandparents Stanley "Butch" Ortogero and Shirley Ann "Shyrl" Kalaniwahine Kai Jacobe; maternal grandparents, Marie Espinas (Nana) and Thomas "Tommy" Luminelli (Papa); maternal grandfather, Ricky Espinas (Grandpa); the Rilling 'Ohana, and girlfriend Malayna Bermudes. He also leaves behind many beloved aunties, uncles, cousins and friends.

A Celebration of Ha'aheo's Life will be held
Friday, April 22, 2022, from 5:00 p.m. to 9:00 p.m.
at Artistry Honolulu, 461 Cooke Street, Honolulu.