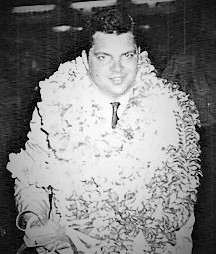 John Farrington, whose father and mother represented the territory of Hawaii in Congress in pre-statehood days, died February 25, 2022 in Las Vegas, Nevada. He was 86 and was the adopted son of Joseph and Elizabeth Farrington.

Joseph Farrington was Hawaii's territorial delegate to Congress from 1943 to 1954. He was succeeded in that post by his wife, Elizabeth, after he died.

Both also worked at the Honolulu Star-Bulletin: Joseph as managing editor, then president and general manager; and, later, Elizabeth as the paper's first female president.

John was born in Honolulu on Sept. 2, 1935. He attended Punahou School and later joined the Army as a Military Police Officer.

After an honorable discharge from the Army John held a successful position as a local jazz radio host. Another of his favorite hobbies was as a scuba diver and underwater photographer where he traveled around the world on dive trips. He also provided saltwater aquariums at numerous high-end hotels in Hawaii and maintained and supplied local fish for those aquariums.

He is survived by two nephews Hugh F. Richardson, Jr and Joseph Farrington Richardson and a niece Mary Elizabeth LaPrade. He is proceeded in death by his sister Beverly Farrington Richardson.

Interment of his ashes will be at the Farrington plot in the Oahu Cemetery.