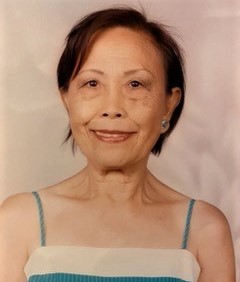 Mary died peacefully at her Makakilo home on April 1, 2022, in the presence and comfort of her son and daughter-in-law, Pat and Susanna Gonzales-Rogers. Born in Aiea in 1933, she graduated with class of 1951 from Farrington High School, and then attended Hawaii Business College where she obtained the current equivalent of an Associate's Art's degree.
Mary loved to travel, and in her twenties lived in San Francisco, Guam, South Korea and Japan. She had a long and successful career in the federal government as a secretary, where she worked for 32 years. The highlight of her career was being selected to be a part of then President Nixon's advance team for his historic trip to China in 1972.
Mary loved the outdoors and fitness. In her thirties she was a certified scuba diver and had a hearty fitness regime well into her eighties that included jogging, swimming, and walking. She loved pets and in addition to the many dogs she owned, she would often adopt a stray neighborhood cat.
Mary's greatest loves were of God and family. She was a devout lifelong Christian. Her faith was so strong and evident, that near the end of her life, when a chaplain came to pray for her, she actually ended up praying for and giving a tiny sermon to the chaplain. Mary was an incredibly strong and independent woman who decided that her life had been fulfilled and it was time to return to Ke Akua. All that knew her were quickly immersed in her joy, energy, and generous kindness.
She is survived by her son, Patrick Gonzales-Rogers and her sister, Connie Kaopuiki.

Mary's funeral services will be held on Wednesday, May 4th, 2022, at Hawaiian Memorial Park Cemetery in Kaneohe. Family and friends may visit from 10:00 to 11:00 a.m. with service to follow.