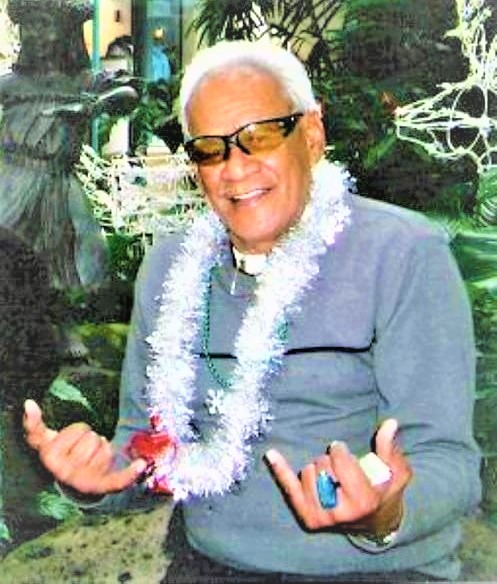 Age 82, of Nanakuli, passed away peacefully in his home surrounded by his loved ones, on February 19, 2022. He was born in Hana, Maui on November 3, 1939, to the late Reverend's Andrew and Emmaline (Hooulu) Kaawa Jr.

Andrew is survived by his loving wife of 62 years, Jeanne (Keoho) Kaawa. Sons, Andrew (Dominic) Kaawa IV, Nathan (Clarice) Kaawa, Keoki Davis, and Logan "Mana" Kaawa (adopted grandson); daughters, Daryl-Jean (Kenneth) Kea, Yolanda (Logan) Kea-Kaawa, Kelly Kaawa, Jewel (Riley) Akamine, and Susie (Larry) Martin (hanai daughter); brothers, Gabriel "Puna" Kaawa, Thomas (Sharon) Kaawa, Jacob Kaawa, Solomon (Clara) Kaawa-Tabangcora, and Daniel (Janice) Kaawa; sisters, Jane "Haunani" Wahilani, Judy (Harry) Opunui, Evelyn "Kuulei" Collins, and April Kaawa-Flores. He has 35 grandchildren, 68 great- grandchildren and a whole lot of cousins, nieces, and nephews.

Andy, "our Hawaiian Superman," was a Master of Many Talents. This dad of ours enjoyed music and he had a beautiful voice and sang like no other. He was a drummer in his band, Exotics, but give him any instrument and he played it with unrivaled passion. He was a hard-working man and had a compassionate spirit. He was an "entrepreneur extraordinaire," mastering all trades from carpentry, electrical and plumbing to name a few. He was an avid bowler and golfer and was dubbed the honorary fireman with the HFD D Division and Mixed Nuts golfing clubs. He served in the Army National Guard and the Army Reserves. He worked on various Naval contracts as a Tower Climber, Antennae Rigger and Installation Technician. Some of his works can be seen around the island of Oahu – The communication towers at the Lualualei Naval Magazine along Paakea Road in Nanakuli and the towers and cable lines across Haiku Valley in Kaneohe. He retired after 17 years as the Maintenance Supervisor with Catholic Charities Hawaii's Ma'ililand, Kawaihae and Haleiwa Transitional Housing Programs.

We have so many fond memories of him, and we are blessed to have been able to call him Husband, Daddy, Papa, Tutu Papa, Son, Brother, Uncle, Nephew, Cousin, and Friend. When God gave him to us, He gave us His Best!

Please join us for his Celebration of Life...
Services to be held on Saturday May 7, 2022,
at Mililani Memorial Park & Mortuary - Mauka Chapel.
Visitation begins at 5:00 PM and Wake Service at 6:30 PM.
Casual attire. Flowers are welcome.