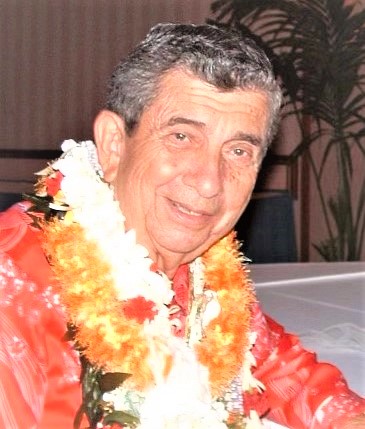 Age 93, passed away on Sunday, March 27, 2022 in Kailua, HI. Walter was born May 23, 1928 in Honokaa, HI to Louis and Diolinda (Hart) Gonsalves. Walter graduated from Honokaa High School in 1946, worked as a butcher and also for Ikeuchi Contracting, where he learned his carpentry skills. He enlisted in the Army in 1950 during the Korean War and later attended business college where he learned accounting. He married the love of his life, Lorraine (DeCosta) on June 12, 1954 at St. George's Church in Waimanalo, HI. Together they had one daughter Beverly (DeBono) and one grandson Christopher.

Walter worked at the Kaneohe Marine Corps Air Station for 33 years as the Budget Officer, and retired in 1983. On the weekends he built houses for Nakamura Contracting and when he retired, opened his own handyman business.

Walter was a devoted husband, loving father, adoring grandpa and a proud Veteran. He will be remembered for his bright and charming smile, his kind heart, and love that he so generously shared with everyone he met. He always had a smile on his face and a song in his heart. He brought joy to many during Christmas with his Holiday home decorations.

He is survived by his wife Lorraine, his daughter Beverly (John) DeBono, and grandson, Christopher DeBono, brother Robert (Virginia) Gonsalves, sisters Irene (Richard) Ignacio and Violet Gonsalves, and numerous nieces and nephews. He was predeceased in death by his father Louis and mother Diolinda Gonsalves, brothers Albert and James Gonsalves and sisters Margaret (Hanohano), Agnes (Denis), Katie (Souza), and Elsie Henrelau.

A chapel service for Walter will be held Friday, May 6, 2022 from 9:00 AM to 12:30 PM at Hawaiian Memorial Park Funeral Services, 45-425 Kamehameha Highway, Kaneohe, Hawaii 96744. A Veterans Committal Service will be held from 1 to 2 PM at Hawaii State Veterans Cemetery, 45-349 Kamehameha Hwy, Kaneohe, Hawaii 96744.