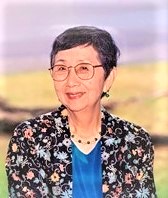 97, died peacefully at home on March 7, 2022 surrounded by her immediate family. A private celebration of life service was held on April 10. She was laid to rest with her beloved husband, Ben H. Tamashiro at Punchbowl Cemetery of the Pacific. She worked for nearly 30 years as a civil service employee for the US Army.

Gloria was born and raised in Honolulu and graduated from McKinley High School and Kapiolani Community College. After retiring, she started Hawaiian Patch, selling her patchwork quilts and other hand-crafted items. During her retirement, Gloria enjoyed each onstage and offstage role with Kumu Kahua Productions, but she was best known for her role as Myra of Bank of Hawaii's notable Harry and Myra commercials, which aired from 1986-1997.

Gloria is survived by her daughters Regina Tamashiro, Brenda (Dennis) Imoto, Vanessa (Paul) Miller, Jenny (Dean) Hazama, Celia Tamashiro, 7 grandchildren, and 5 great- grandchildren.