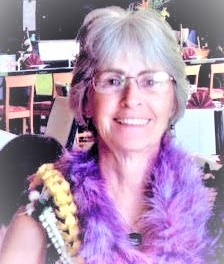 78, dearly loved wife, mother and grandmother passed away peacefully at her home on March 20, 2022, surrounded by family. Born in Honolulu on December 6, 1943 and graduated from Star of the Sea high school in 1961. She later graduated from Honolulu Beauty School and worked as a beautician in the Kaimuki area.
She got married in 1963 and moved to Elmer, New Jersey for three years then came back to Oahu. She worked at an orchid nursery for a few years in Kaneohe where she became very knowledgeable about plants which everyone got see in their yard in Kaneohe. Then in 1977 Loretta and Doug bought a home and opened Breeze Hairstyling in Kaneohe. She sold the beauty shop after ten years then went to work for the Department of Health's Newborn Screening program before retiring after 20 years of service. She became very close to many of her co-worker's whom she considered family.
Loretta was passionate and supportive of her family and friends in many ways. She enjoyed sewing, quilting, reading books, cooking, and baking. Loretta was well known for her ono guava jam, grown from her guava tree in her yard. She looked forward to Christmas time to cook her famous Portuguese bean soup in a huge pot, and bake lots of sweet bread, which she would share with family and friends.
Loretta was diagnosed with Acute Myeloid Leukemia in December 2021 and succumbed in March 2022. She is survived by her husband, Doug, married for 58 years, sons Tim (Roseann), Tom (Bernadette) Freitas, daughter Theresa Kenui (Corey), four grandchildren Andrew and Lei Kenui, Dr. Joshua Freitas, Preston (Cynthia) Freitas. Loretta was affectionately known as OMA to her grandchildren and their friends.
She was preceded in death by her father Herbert (Lillian) Lagerfeld, mother Lorraine Lagerfeld, and brother Paul.

A celebration of life will be held at the Hawaiian Memorial Park
in Kaneohe on Friday, May 13, 2022, visitation 4 pm – 5 pm, ceremony 5 pm – 6 pm.