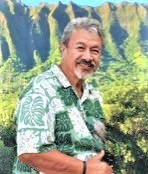 Henry "Hanalei" Truman Kelakahi Makua, known by most as "Hanalei", 73, of Kapolei, passed away on April 02, 2022. Henry graduated from James B. Castle High School, Class of 1967 and honorably served with the United States Marine Corps. He worked with Hawaiian Electric Company, Inc. for 32 years and retired as a Control Operator.

He enjoyed camping, bowling, golfing, watching University of Hawaii sports, and traveling, especially to Las Vegas where he would play craps, live and video keno.

He is survived by his loving wife of 52 years, Eloise, sons Henry and Sherman, daughters Charmaine and Cherene (Tyson), 7 grandchildren, and 3 great- grandchildren. Brothers Nelson Willis (predeceased) and Donald Makua.

Celebration of life will be held on Saturday, May 21, 2022 at Hawaiian Memorial Park. Visitation @ 10a.m. Service @ 11a.m.