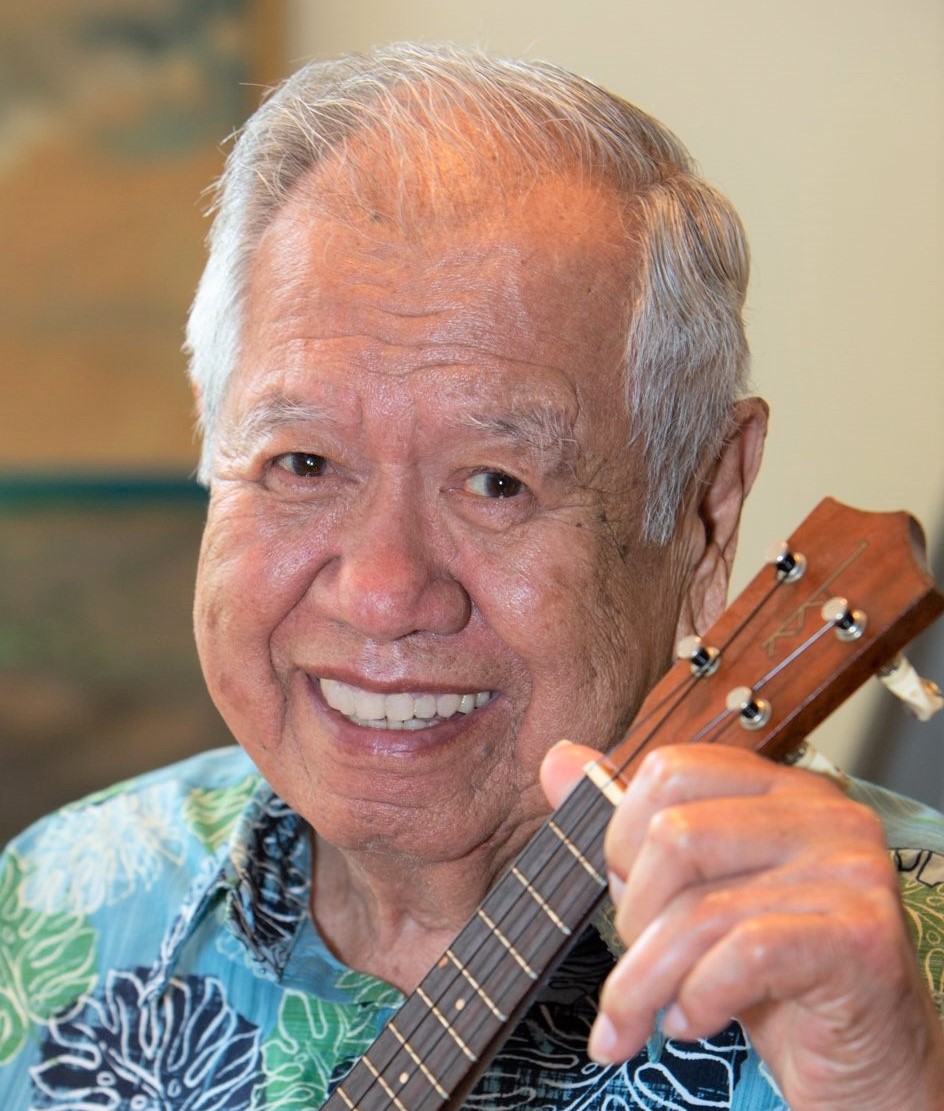 Samuel Kamaka Jr., patriarch of what is regarded as the world's finest family of luthiers, maintained a high standard for quality in craftsmanship throughout the years, and never wavered from it. "Kamaka Hawaii" is synonymous with the ukulele, the instrument cherished and strummed all over the world. This Native Hawaiian, family-owned business celebrated its 106th anniversary in 2022.
Samuel was born in Honolulu, Hawaii, on June 18th, 1922, to Samuel Kaialiilii Kamaka Sr. and May Josephine Akeo. He pursued his post high school education at Washington State University and also served in the United States Army from 1945 - 1947. In 1954, when his father, Samuel Kamaka Sr. fell ill, he left his Doctoral studies in Entomology at Oregon State University to return home to care for him. Following his father's passing, Samuel Jr. re-established the family Ukulele business, which flourished under his leadership for over 50 years. He instilled the family tradition of quality in craftsmanship to his sons and grandsons.
Devoted to St. Ann's Church for over 60 years, Samuel spent many years spearheading the famous St. Ann luaus and carnivals. Every Sunday he tuned the instruments prior to mass for the "God Squad", a music group full of youngsters. Still serving his church in later years, he was active with the Knights of Columbus, Serra Club of Honolulu, and the Holy Name Society.
Although a 1940 graduate of St. Louis High School, he was a proud member of the Kamehameha Schools Alumni Glee Club for over 50 years, where he shared his love of music and song.
Samuel was humbled to receive numerous awards and honors throughout his life for his achievements.
Samuel met the love of his life, the late Geraldine Barthelemy, in 1953, and they were married for 58 years. Their union produced a legacy of love and music that will endure forever. Samuel is survived by sons: Chris (Ranette), Casey (Vicky), Kelly (Mahinalani); daughters: Catherine (Thomas) Gambino, Paulette (David) Taylor, Malia Kamaka, Jennifer (Jon) Concepcion ; 17 grandchildren; 11 great grandchildren; brother Fred Kamaka Sr. and nieces and nephews.

June 8, 2022
St. Ann's Church, Kaneohe
Visitation: 9:00 a.m.; Program: 10:00 a.m.; Mass: 11:00 a.m.
Celebration of Life at St. Louis High School from 4:00 p.m. - 8:00 p.m.


A private family burial is planned.
Fond memories and expressions of sympathy may be shared at dignitymemorial.com.