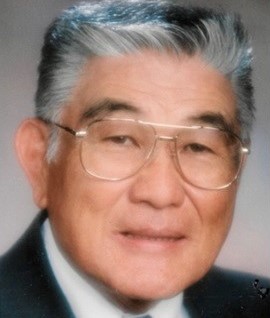 March 2, 1928 ~ January 2, 2022





James Tatsumi Ohashi passed away on January 2, 2022, at the age of 93 in Honolulu, Hawaii.
James was born at Seki Camp, Huleia, Kipu Sugar Plantation, on the island of Kauai. He was one of eight children of Bunjiro and Ima Ohashi. He attended Huliea grammar school and Kauai high school. James was on the high school football team and while living in Kauai he enjoyed swimming, hiking, hunting, fishing, and singing. In 1950, he attended the University of Hawaii at Manoa and worked at the Halekulani Hotel.
In June 1951, he enlisted in the US Air Force (USAF). In September 1952, he entered Officer Candidate School and was commissioned a 2nd Lt. in March 1953. James remained in the USAF for 22 years and attained the rank of Lt. Colonel. His USAF career took him to 5 US states and the countries of Morocco, Vietnam, and Japan.
After retiring from the US Air Force at Hickam Air Force base in Hawaii, he and his family resided in Mililani, Hawaii and James worked for American Bankers.
James was the beloved husband of Yaye and loving dad of Michael (Christine) Ohashi, John (Jane) Ohashi, Kimberly (Alan) Youngblood and Kenneth Ohashi; the dear grandpa of Nicole, Casey, Caitlin, Jared, Jax, Akira, Krista (Grant), and Elijah and the dear great grandpa of Benjamin.
He was preceded in death by his parents Bunjiro and Ima Ohashi; brothers Fumio "Charlie", Tsugio "Eddie"; sisters: Yoshiko "Alice" Kuroiwa Scharsch, Yayeko "Eva" Uyeno, Tomiko Kawate, Hayako "Mildred" Ota, and Chiyoko "Ethel" Nanbu.


A service will be held at Hawaiian Memorial Park Cemetery in Kaneohe on Thursday, June 2, 2022, from 9:30 a.m. till 1:00 p.m.