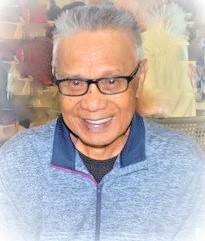 Born in Waimea Kauai on April 30, 1941, passed away on Feb 15, 2022 at Pali Momi Med Ctr. One of 13 children, he graduated from Waimea Hi, attended Kansas State Teachers College. Spent most of his career in Construction material sales, known as the "go to guy" for structural concrete repair solutions. Ernie was an avid golfer, loved watching football, college volleyball & baseball. Las Vegas was a favorite destination, loved Blackjack & PaiGow. He was famous for his "Kauai" Potato/ Mac salad, Garlic shrimp, Texas style ribs, pork gisantes and chicken adobo. Cooking was his way to say "I Love you".
He is survived by his spouse Paula, his daughters Audra Uitto (Leo) Marlina Hufstetler (Jack) stepdaughters Tina Cuellar, Mia Henne and stepson Bill Henne (Roberta). Grandchildren -Elijah & Adam Hufstetler, Jacob & Isabella Cuellar Jaxton Andrade, 3 brothers & 3 sisters. Ernie was a large part of his family's lives, always smiling, happy to be living life on his terms.
Please join us in Celebration of Ernie's Life on June 11, 2022 at Honolulu Country Club starting at 10:30am, with lunch to follow. Come share your memories and stories with family & friends.