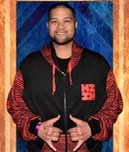 Naleiwehikupuna Isaiah "Bubba" Beazley passed away peacefully in the presence of God, his family & friends on February 28, 2022, in Las Vegas, Nevada. He was 38 years old and a Graduate of Kamehameha Schools class of 2001. He was a former Asst. Director of Security at Hakkasan Group. Survived by Fiancé Patricia Shealy; Sons Jayden & Trey-David; Parents Del & Rhanda Beazley; Brother Kahale (Malia); Nieces Mikeila & Aria; Grandparents Barbara (Francis, dec.) Wong, Delwin & Mary Beazley, Sr.
Celebration of Life: 5:00 p.m. - 8:00 p.m., Tuesday, June 14, 2022, Bishop Museum Great Lawn. Parking: $3.00 by debit/credit card only.
No large floral wreaths. No alcohol. Please do not attend if you have Covid symptoms. Limited reserved seats. Bring chairs or blankets to sit on.