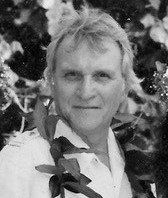 96, of Honolulu, Hawaii, was called home to Akua on June 15, 2022. Born December 3, 1925, he was Danish, Hawaiian and English, raised on Kauai, graduated from Kamehameha School in 1945, and retired after 34 years of government service. From 1972 to the present, he served a leadership role in various Hawaiian organizations, devoting his time to his greatest passion, advocating for the restoration of native Hawaiian sovereignty.
Predeceased by wife, Joanna, he is survived by Rhonda (Patrick) Lizama, Keoni, Andrew (Yuri), Melelani (Vernon) Agard-Gleason, Moani (Tony), 7 grandchildren, 4 great grandchildren and 1 great great grandson.

Memorial services will be held at 9:30 am. on Tuesday, July 26, 2022,
Hawaiian Memorial Park, Kaneohe. Interment to follow.