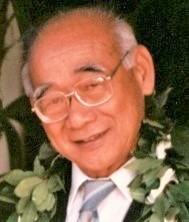 98, of Waipahu, Hawaii, passed away at home on Sunday, May 15, 2022. He died peacefully after having eaten a full breakfast with his beloved wife Irma by his side.

Leonard was born in Honolulu, Hawaii in 1924 to father Meu Yuen Chong and mother Abbie Ho Chong. The fifth oldest of eleven children, Leonard went to Maryknoll School in Honolulu but left school early at 16 years of age to enter Pearl Harbor Naval Shipyard in 1940 as a machinist apprentice. He would work at the Shipyard for 32 years except for a short stint in the U.S. Army toward the end of World War II.

Deep sea fishing was Leonard's passion and after retirement he would go fishing in his boat the Lauri C. three to four times a week with his fishing buddies. The family would enjoy eating fresh fish most days of the week.

Leonard's other passion was traveling and although money was tight he was able to take his entire family on three long vacations in the 60's and 70's. One trip was a drive across the country through over 30 states and another driving the entire length of the Alaskan Highway. He instilled in his children a love for traveling and experiencing places and culture which carries on today.

Leonard was a kind loving devoted father whose family always came first. He had a knack for repairing mechanical things, an interest in new technologies and like many of his generation was handy in many different skills.

Leonard was married to Irma on Valentine's day in 1953 and he is survived by Irma, brother Richard and his four children, Creighton, Leighton, Lester and Lauri Ann and eight grandchildren, Brian, Tiffany, Stephanie, Brandon, Tyler, Kyle, Nathan and Alexis.

There will only be a small service for immediate family members.