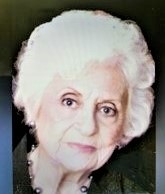 Nana passed away peacefully at home on June 10, 2022 at the age of 104. She was predeceased by her husband, Papa Frank Nobrega. She is survived by her three daughters: Barbara Akau (Hardy), Kitty Stillwell, Jacki O'Shea (Tim), 5 grandchildren, and 12 great grandchildren.
She loved spending time with her family, baking, sewing, gardening, singing and playing the piano. She was the most loving mother, and grandmother, the absolute love of our lives. She will be remembered by everyone for her sweet, kind and gentle soul. She was a 1937 Maryknoll graduate.
Services will be held at Hawaiian Memorial Park on July 25, 2022. Visitation 12 noon, Services 1:15pm, Burial 2pm, Lunch to follow.