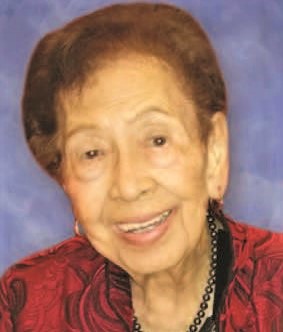 Cecilia was born on January 11, 1924, to Eugene and Alice Aiu. She was one of 8 siblings – Margaret, Harold, Cecilia, Andrew, Ernest, Alma, Raymond, and Patrick - in a very tight-knit family.

She graduated from Kaua'i High and attended Honolulu Business College. When World War II broke out in 1941, she worked as a secretary with the United States Engineering Department and then at Tripler Army Medical Center where she met Arthur Ka'imi Wood. The couple wed on January 24, 1948, and were happily married for 61 years when Arthur passed away in 2009.

The couple was blessed with 5 children - Genevieve Leilani Wood, Patricia Healani Hessler (Peter), Marian Iwalani Wood, Ramona Ke'eliko-lani Wood-Sword (Max), and Christopher Ka'imi Wood (Lily). They also have 5 grandchildren - Angela Arana (Helio), Christilei Hessler, Peter Arthur Hessler, Kainoa Wood, and Ka'iulani Wood, and 6 great grandchildren - Shawn Wood, Jasmyne Wood, Bella Arana, Sophia Arana, Olivia Arana, and Joseph Arana.

Cecilia was a devout Catholic throughout her life. She also loved bowling, Hawaiian music, and, yes, she also loved traveling to Las Vegas where she played a mean game of poker.

Cecilia was a loving daughter, wife, mother, sister, aunt, grandmother, and great-grandmother, and is missed dearly by so many, but her memory will live on in all our hearts.

Celebration of Life - Wednesday, August 17, 2022
Co-Cathedral of St. Theresa, 712 N. School Street, Honolulu
Visitation 10am-11am, Mass: 11am

A private service for family will be held at
the National Cemetery of the Pacifi c at
Punchbowl on August 22, 2022, at 2pm.